Leading the Democratic National Committee is never easy. In a party notorious for circular firing squads, the DNC chair has to dodge crossfire from southern centrists, urban activists and western iconoclasts—without taking a bullet himself. But the job is especially fraught this year. In the first midterm election of the Trump era, Tom Perez is trying to flip seats in blood-red America while also rallying the Resistance.
Perez has been chairman of the DNC since early last year. He took office on the heels of a scandal. In the 2016 primary between Hillary Clinton and Bernie Sanders, the DNC negotiated a secret fund-raising agreement to benefit the Clinton camp. Public exposure of that deal enraged Sanders supporters and led to the first contested election for a DNC chair in more than 30 years. The ensuing campaign, between Perez and Congressman Keith Ellison, only deepened the party's divisions. Ellison, a stalwart progressive, was among the most ardent supporters of Sanders in Congress. His bid for control of the DNC reflected a movement to dislodge the establishment. Perez, meanwhile, was widely seen as a fixture of that establishment. After serving in the Justice Department under Eric Holder, he was named secretary of labor, where he inflamed the left by removing penalties on five banks that were convicted of market manipulation.
When DNC members elected Perez as chair, the left wing of the party raised alarms—but Perez quickly installed Ellison as his deputy and the two claimed to begin a "bromance." Since then, Perez has guided the Democratic strategy for the midterms. His approach has been either pragmatic or erratic, depending whom you ask. He has praised democratic socialist Alexandria Ocasio-Cortez as "the future of our party," even while promising to support Democrats who voted for Supreme Court nominee Brett Kavanaugh and endorsing the calcified New York Governor Andrew Cuomo against upstart Cynthia Nixon. Perez believes these are tactical choices to help Democrats on November 6. His critics believe his ameliorist tendencies are a threat to the party's core values. A blue wave could assuage those critics, while anemic returns could lead to his ouster. In a 30-minute discussion five days before the election, under the wary oversight of his deputy communications director, Sabrina Singh, Perez tried to explain why his agnostic approach is the best way to run the map.
This interview has been lightly edited and condensed for clarity.
I wanted to start with a foundational question. Is Donald Trump a racist?
Donald Trump is a divider. Donald Trump understands that fear and division are his road maps to success. America is at its best when we have leaders who unite America, leaders who summon our better angels, leaders who understand that we all succeed only when we all succeed. The dog-whistle politics of Donald Trump are not who we are as a nation, and one of the reasons I feel optimistic about this midterm cycle is, I think Americans understand that we need leaders who do bring America together.
You don't think we have enough evidence to say he's a bigot?
Listen, his use of dog-whistle politics is unconscionable. The biggest megaphone in the world, the biggest bully pulpit in the world, belongs to the president of the United States. In the aftermath of 9/11, when a Sikh American was brutally murdered, George W. Bush declared forcefully and courageously that we are not at war with Islam. [1] Babir Singh Sodhi was shot and killed outside the gas station he owned in Mesa, Arizona on September 15, 2001. He was the first of several people killed in hate crimes after 9/11. That is how you use the bully pulpit.
This is a guy who has called for a "
Muslim ban
," who wants to
revoke
birthright citizenship, who's sending
5,200 active-duty troops
to the border based on
hysterical lies
. He's presided over a
57 percent jump
in anti-Semitic incidents. I mean, if a progressive man of color who's running the party can't call that "racism" in the heat of an election, what kind of opposition party is this?
We're making great progress as an opposition party, and we're going to be a majority party after this midterm, because we are bringing America together. We are calling out divisive behavior. I have been unequivocal in doing that, and I will continue to be unequivocal in doing that. He's Distracting Donald, [2] Democrats have twisted themselves in knots to find a Trumpian nickname that will stick, including "Don the Con," "Traitor Trump," and the queasying "Mrs. Putin." and this entire conversation is what he wants you to do. He wants reporters not to focus on health care. He wants reporters not to focus on his efforts to cut Social Security and Medicare. He wants reporters not to focus on what he is doing to undermine the labor movement. When I talk to people across this country, they want a party that's going to fight for an America that works for everyone.
But don't you think—
They want a party that is going to protect their health care. They want a party that is going to protect people with pre-existing conditions. They want leaders who are not going to use the dog-whistle politics of division.
And yet, his approval rating in one poll
is at 47 percent
. That's his highest ever. It's up to the Democrats to get their message through—if he's a racist, why are you afraid to use the word?
Can I just ask a question? Is the whole interview about what term we use?
Nope. But I am interested in that.
I thought we were going to talk about the run-up to the midterm elections.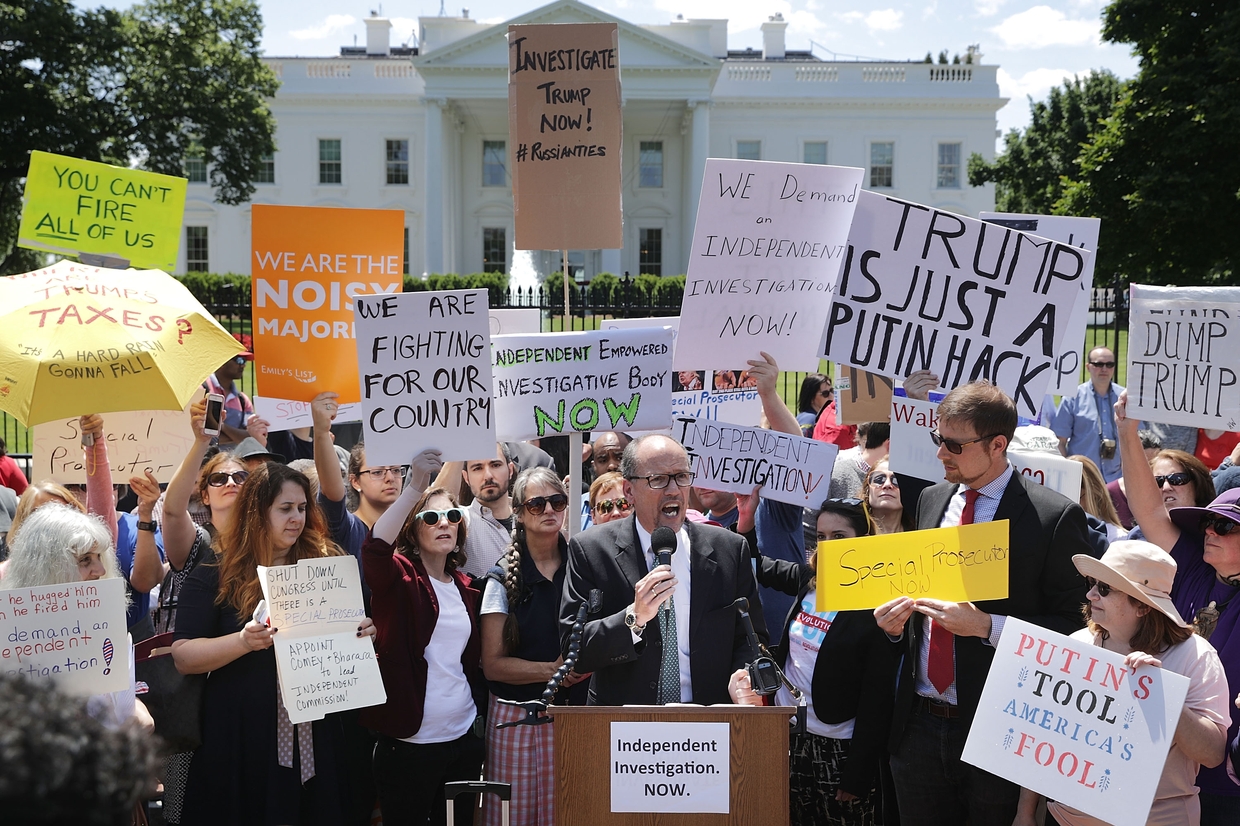 We're in the run-up, and we just saw the Tree of Life disaster, we saw Cesar Sayoc…
[3]
The massacre at Tree of Life synagogue by a right-wing extremist left 11 congregants dead and 6 wounded on October 27. Sayoc, a vitriolic Trump supporter, was arrested one day earlier for sending at least 13 explosive devices to leading Democrats and media figures.
I have never been hesitant about calling out divisive behavior from this president, who has divided this country along racial lines, along sexual-orientation lines, along ethnic lines. He is making life harder for people, not easier for people. So it's really important as Democrats to focus on what we're fighting for. We're fighting not only for good jobs. We're fighting not only for an America that works for everyone. We're fighting for a democracy that reflects our values of inclusion.
Trump is fighting for the dog-whistle democracy, where you only succeed at the expense of an immigrant. You only succeed at the expense of our Muslim brothers and sisters. That's not who we are as a nation. And that's why he is such a dangerous president—the most dangerous president, in my judgment, in American history. We need to call that out, and I've never hesitated to call that out. What voters want to know is what we are fighting for. We're fighting for health care, we're fighting for leaders who unite, we're fighting for good education. We're fighting for opportunity in every zip code.
When you see Chuck Schumer
tweeting
that both sides commit despicable acts of violence, do you think that's calling it out enough?
I haven't seen the quote, so can you give me the whole context?
It's a tweet. He said, "Despicable acts of violence and harassment are being carried out by radicals across the political spectrum—not just by one side." Do you worry, as the head of the party, about that kind of false equivalence?
Sabrina Singh: Hey, Wil. We don't really want to get into responding to other Democratic tweets. We're really excited about the map, and we're happy to talk about our midterms and the strategy, but if you want to go more into this path, I'm happy to talk to you about this. I just don't think this is a good use of Tom's time.
Well, I think this is a big part of the political landscape.
Let me try to address your point. Donald Trump did not invent anti-Semitism. Anti-Semitism predated Donald Trump. Donald Trump did not invent the politics of division. This division predated Donald Trump. Donald Trump, however, understands 100 percent that the politics of division work to his advantage. That's not leadership, and when you say things like you applaud the public official who assaulted a reporter— [4] That's Greg Gianforte, the Montana congressman who threw the Guardian's Ben Jacobs to the ground last year—and then lied about it for a while.
Right—"Anybody that can do a body slam, he's my kind of guy."
Yeah, when you tell a crowd of thousands of people, "I will pay for the legal fees of anyone who assaults someone," when you condone such violence, it should come as no surprise to anyone that there are then attempted bombings of CNN and other individuals. That is a foreseeable consequence. Similarly, when you are incapable of calling out the bigotry that is Charlottesville, that is unconscionable. That is why Donald Trump is morally bankrupt as our president. We need leaders who have a moral certainty and a moral clarity about them. We need people who understand that our democracy—our inclusiveness, our diversity—is our greatest strength as a nation. It's what makes America great.
"I categorically reject your suggestion that the chances of winning the Senate have collapsed."
Let's talk about the midterms. The House looks solid for Democrats, but the chances of taking the Senate have collapsed. How should we understand that?
I categorically reject your suggestion that the chances of winning the Senate have collapsed.
OK.
I reject it because I've been out in Nevada in recent days. We've been out elsewhere, and you see a lot of movement in the polling in these states. You may recall that in 2012, Nate Silver called all the Senate races to a T with one exception: He got Heidi Heitkamp wrong. [5] In 2012, against all expectations, Heitkamp won her Senate Seat in North Dakota by fewer than 3,000 votes, thanks in part to strong support from Native Americans. Silver's predictions are as close as anyone's, but he was also mistaken about the election of Jon Tester in Montana that year. People underestimate Heidi Heitkamp at their peril. She is a remarkably authentic leader who has always had as a North Star what's in the best interest of North Dakota. What we've seen in the last week is more evidence of why we need guardrails in Washington, because we have a president who exacerbates problems, not solves problems. That's why I think we have a real shot. I applaud what the Democratic Senatorial Campaign Committee continues to do to invest. Will it be close? Absolutely. But when I hear your statement—well, I heard similar statements last year about Alabama and our chance there. [6] In a special election for a Senate seat last December, Democrat Doug Jones pulled off an upset by defeating longtime judge Roy Moore (he was aided by multiple accusations of sexual harassment against Moore).
But you must be watching these poll numbers and forecasts. The chance of Democrats taking the Senate
has dropped
from 34.5 percent to 15.1 percent over the last two months.
We'll find out on November 6 which polls are right and which polls are wrong. I continue to have a lot of optimism, not only about the House and the Senate but about our ability to take statehouse seats and our ability to flip a number of state legislative chambers.
Your biggest challenge is that the whole electoral system has structural disadvantages that favor Republicans. Just looking at the Senate, 18 percent of the U.S. population now commands a majority. There's also massive gerrymandering in the House and, of course, there's the Electoral College. How can Democrats get back from those structural deficits?
We organize everywhere, we field good candidates everywhere and we lead with our values. People said we couldn't win in Alabama last year and we won, because we had an authentic leader whose North Star was what's in the best interest of the residents of Alabama. We've been able to flip 43 state seats across the country in the last 18 months from red to blue, some of which were in deep red territory—four state legislative seats in Oklahoma, by way of example, some of which were in the state's Bible Belt. In Oklahoma, they fought for a solid public education for everyone; throughout the country, we've been fighting for people with pre-existing conditions to get access to health care. We've been fighting to save Medicare and Medicaid.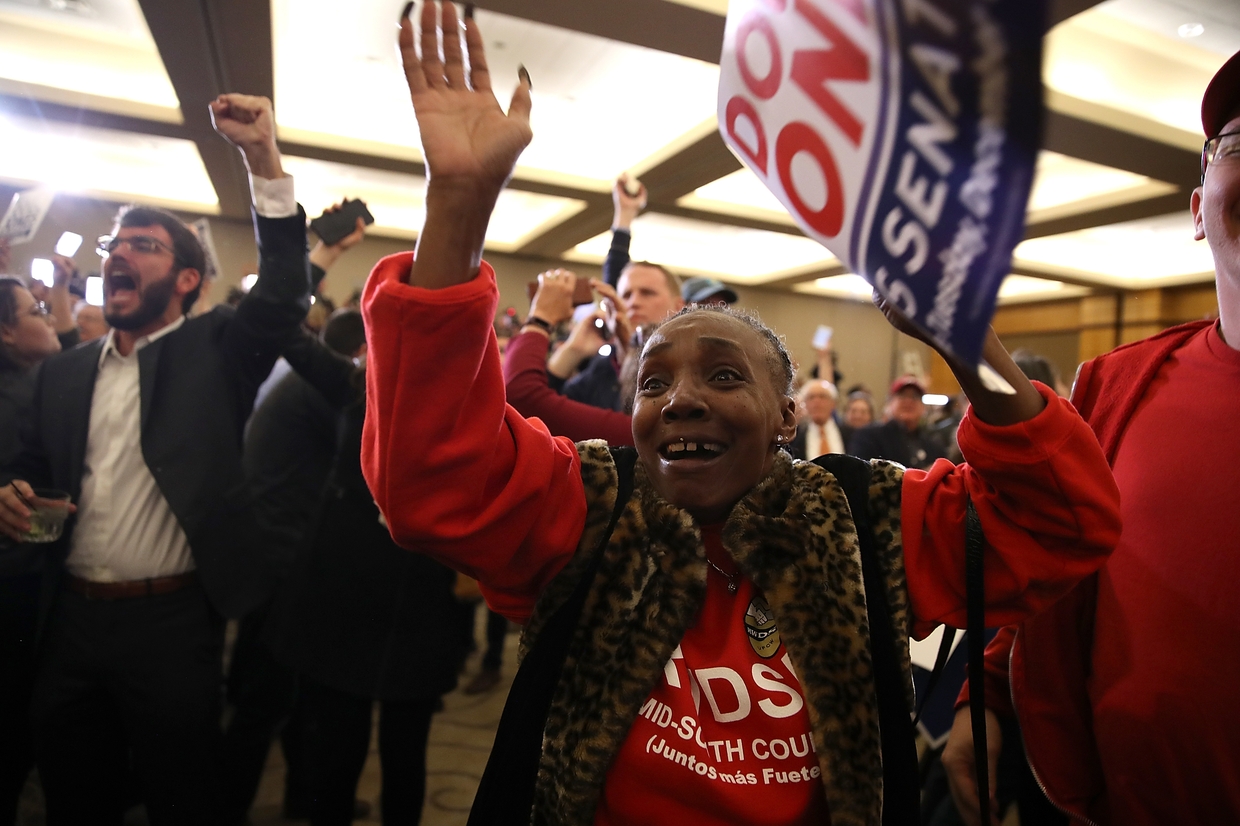 Do you think it's useful to give D.C. and Puerto Rico voting representation in Congress to balance the structural challenges?
I've supported statehood for both Puerto Rico and for the District of Columbia, and I hope that those things happen. In the meantime, we're dealing with the electoral map as we see it, and what we have to do right now is exactly what we're doing, which is organizing everywhere, leaving no zip code behind. We're out in rural America talking about access to health care, we're out in urban America talking about access to healthcare, we're out everywhere in between. I think we're going to flip a number of governor seats, as well as state legislative seats. We've been very strategic in our focus there, helping our colleagues at the Democratic Legislative Campaign Committee, because if we flip 17 statehouse seats in 8 chambers, we flip those chambers. And that's relevant for the process of redistricting.
Some of the races coming up are much closer than they should be. I'm thinking of Bob Menendez, for example.
[7]
The senator has been dogged by corruption charges for years now, and the Democratic Party, which could've helped nudge him out, has instead had to deploy substantial resources to keep his seat blue.
He won by 20 points in New Jersey last time, and this year, it's a toss-up. Should party leaders have demanded that he step down?
Bob Menendez is going to win his race. Do you want Bob Menendez in New Jersey, or do you want Mitch McConnell in New Jersey? It's a very stark choice. His opponent wants to do away with coverage for pre-existing conditions. His opponent supported the massive tax cut that was a disaster for New Jersey taxpayers. I'm confident that Bob Menendez will win re-election in New Jersey.
What was your thinking when
you said
that you would continue to support a Democrat who voted to confirm Brett Kavanaugh to the Supreme Court?
There was only one Democrat who voted for Kavanaugh, and that was Senator Joe Manchin.
Right.
Joe Manchin is going to win in West Virginia. I disagree with him—if I had been a senator, I would have voted against Kavanaugh's confirmation. But I am not a senator. I thought it was pretty remarkable that almost every Democratic senator voted against the nomination. I think that was the right thing to do. I disagree with, but respect, what Senator Manchin did. He is going to ensure that we have access to health care, and he's fighting to make sure that people with pre-existing conditions aren't going to be denied health coverage. He's fighting to make sure that union members can form a union; he's fighting for a number of the critical issues that are key to the Democratic Party.
But what's the point of electing Democrats who don't even vote with the party on something as fundamental as protecting women from sexual assault?
Well, Joe Manchin did what he believed was in the interest of the voters of West Virginia. I disagree with the vote he took. I do not know the voters of West Virginia as well as Joe Manchin does. I wish he had voted differently. But the most important issue confronting Americans right now, in this midterm election, is access to health care. If Republicans win, they're going after Medicare, Medicaid, Social Security. So I want more Democrats in the Senate to fight against those efforts, and I know Joe Manchin will be one of those people, because I've met him.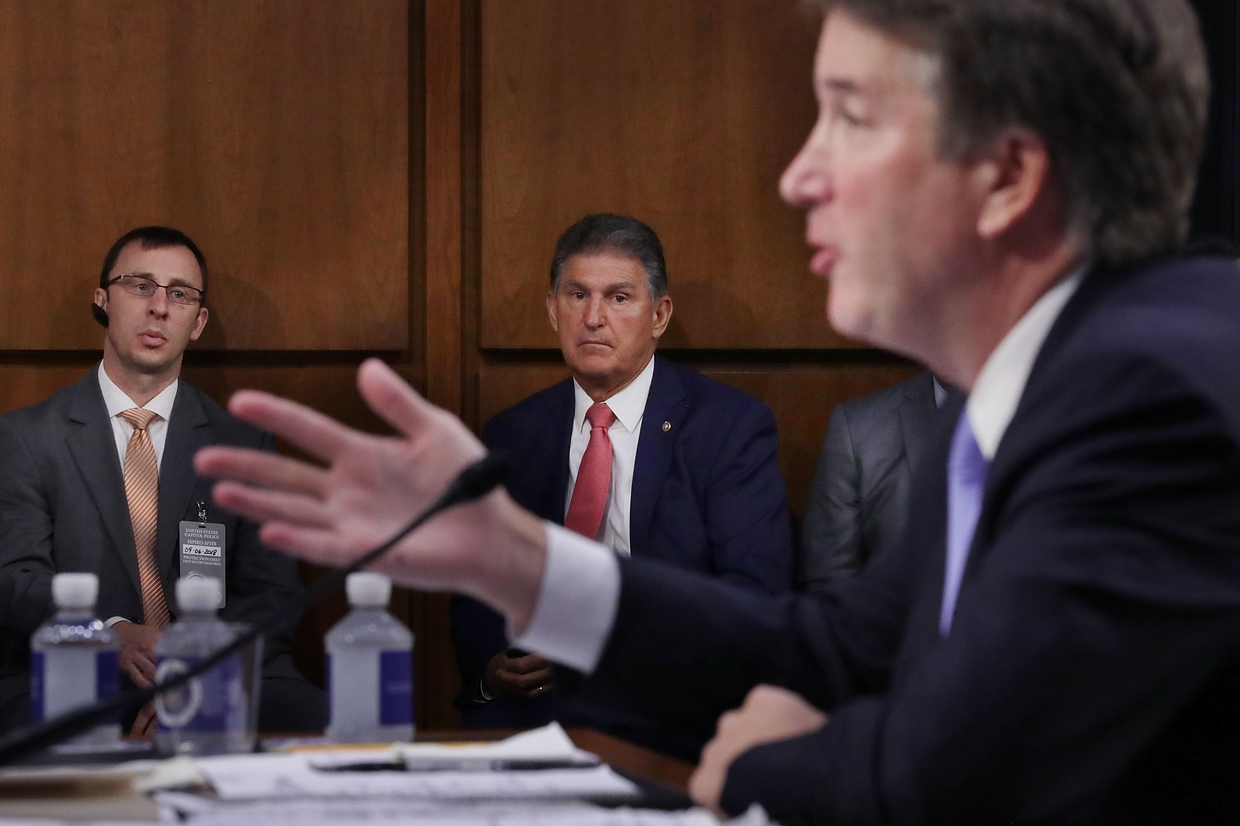 Well then, do you think Heidi Heitkamp did the wrong thing by voting against him?
[8]
Heitkamp's vote against Kavanaugh was an act of political conviction that could seal her defeat in North Dakota.
I would have voted against his nomination, so I agreed with Senator Heitkamp's decision.
But they had similar political challenges, and she did the opposite.
Heidi Heitkamp did what she thought was in the best interest of the voters of North Dakota, and I respect and applaud what she did.
Let me ask you about the DNC. Why should Democrats accept money from fossil fuel companies?
We have taken no money from fossil fuel companies. What we have done at the DNC, and we continue to do at the DNC, is work together with labor and environmental stakeholders, because climate change is very real.
But the DNC
banned donations
from fossil fuel companies this summer, and you revoked the ban. Then the committee tried to limit donations to just $200 from workers at those companies, but you
pushed to allow
executives and political action committees to donate as much as they wanted. Isn't that taking dirty money?
We have had a number of resolutions relating to this, and I think you must have only read one.
I just described two.
Here is what we have been doing at the DNC, and I think it's really important, because climate change is real. Climate change is something that we have to address as a nation. We're the only nation on earth that withdrew from the Paris climate accords. That was wrong. What we have to do, though, and the process that we have set forth at the DNC, is making sure that our transition to a clean-energy economy reflects the concerns of all stakeholders and workers alike. We need to make sure that our air we breathe, and our water we drink, is clean. We also need to make sure, as we transition to a clean-energy economy, that workers are not left behind.
How does accepting money from fossil fuel companies help stop climate change?
Let me reiterate what I said. Perhaps I didn't say it clearly enough. We haven't taken any money from fossil fuel companies since I became DNC chair, and we have internal controls in place to ensure that. You can look up all of our contributions.
I know you haven't taken the money. I'm talking about the policy to allow it in the future.
The broader conversation, which regrettably your questions miss, is, how do we build a clean-energy economy in a way that reflects the legitimate interests of everybody involved, making sure that workers aren't left behind, making sure that we are being stewards of our planet? These are hard questions. And what we know is that this issue is one that the other side wants to use as a wedge. We're not going to let that happen. At the DNC we've built a very big table of stakeholders. I've participated in the last six weeks in two significant meetings of key stakeholders, where we are mapping out a vision for how we move forward in a way that reflects and safeguards everybody's concerns. I'm not going to let the other side use it as a wedge issue; we have to reject these false choices. That's precisely what we're trying to do.
Do you see the Democratic Party as moving to the left?
I want the Democratic Party to be the accomplishments party. Ted Kennedy once told me, "When someone asks you what wing of the party you're on, tell them you're part of the accomplishments wing, because you want to get stuff done." You want to improve people's access to health care. You want to make sure that our environment is cleaner. You want to make sure that women continue to be able to succeed in this nation. You want to make sure that we are moving the ball forward for immigrants. You want to make sure that everybody has an opportunity to succeed. And we have to understand that idealism and pragmatism can never be mutually exclusive—that's another lesson I learned from Ted Kennedy, that principled compromise is not a dirty word. What I love about the Democratic Party is that we are fighting for the issues that matter most to people. We all believe that health care is a right for all and not a privilege for a few. We can debate how to get from 90 percent to 100 percent coverage, and I welcome that debate, but what we have to understand is that the Republicans want to take us from 90 percent down to 50 percent or 60 percent by going after Medicare and Medicaid and the Affordable Care Act.
Are there any positions, like a commitment to women's reproductive rights, that should be a fundamental requirement for a Democrat, say in 2020?
It's in our platform—I mean, our platform is very clearly and unequivocally pro-choice.
But you said voting for Kavanaugh is not disqualifying for a senator. What's the difference?
As I said before, I disagree with what Joe Manchin did. But again, I don't live in West Virginia. I don't represent West Virginia. I would have done it differently. I also believe that when we have more Democrats in the United States Congress and the United States Senate, we can help more people get access to health care. I think when we have fewer Democrats in the Senate, bad things happen to people, so I would rather have more. Politics is about arithmetic. It's about growing our party, and that's what we're doing this November.