When Donald Trump launched his bid for the White House, one of his earliest initiatives was a promise to help Americans who had gone to war for their country. Or, as his campaign put it, to take care of "all Veteran complaints very quickly and efficiently like a world-class business man can do, but a politician has no clue." Last summer, about a month after declaring his candidacy, Trump unveiled a hotline for veterans to share ideas about how to overhaul the bureaucracy that served them. A campaign aide said that Trump himself would personally respond to some of the messages. "I love all veterans and will help them finally lead the kind of lives that they should be leading," Trump declared at the time.
Many of the veterans who called the hotline—855-VETS-352—say they were sent to an automated voicemail message telling them to email the campaign. Those who reached a live human were similarly instructed to send an email, or to mail their medical records to campaign headquarters at Trump Tower. It soon became evident that Trump had no actual plan in place to help anyone who contacted him through the hotline. Calling it a "publicity stunt," one veteran wrote on PopularMilitary.com, "We are not sure what the estimated wait time is, but it is probably safe to say you should hold on to your [Veterans Affairs] card for now."
This perfunctory effort was perhaps to be expected, since Trump has a long and colorful history of showing disrespect toward men and women in uniform. He did not serve himself, avoiding the Vietnam War via four education deferments, followed by a medical deferment for bone spurs in his feet. (His campaign notes that Trump received a high number in the draft lottery and was unlikely to ever be called up.) But on numerous occasions, he has dismissed the experiences of those who did. In the 2015 biography Never Enough: Donald Trump and the Pursuit of Success, Trump is quoted as saying, "I always thought I was in the military" because of his time at the New York Military Academy, an expensive boarding school 60 miles north of New York City where Trump brought women onto campus so often that his yearbook nickname was "Ladies' Man." The author, Michael D'Antonio, writes that Trump believed the academy "provided him with more military training than most actual soldiers."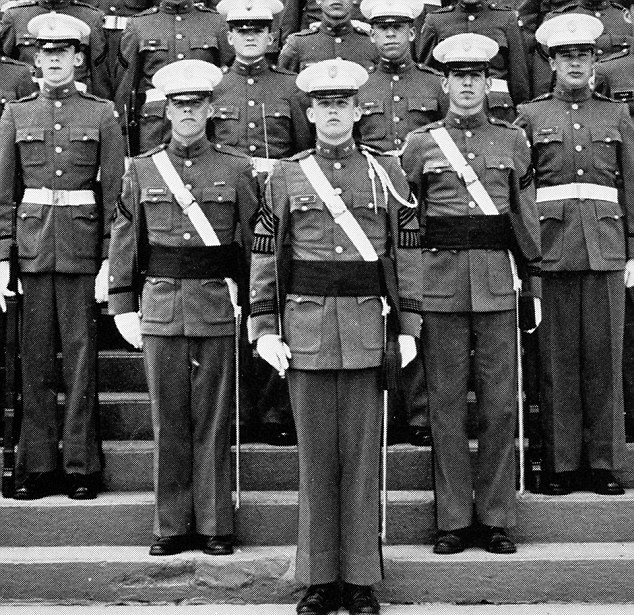 In the 1990s, Trump made headlines for lobbying the New York State legislature to ban disabled veterans from working as street vendors around Trump Tower. "Do we allow Fifth Avenue, one of the world's finest and most luxurious shopping districts, to be turned into an outdoor flea market, clogging and seriously downgrading the area?" he wrote to a state assemblyman. Thirteen years later, he appealed again to then-Mayor Michael Bloomberg. "Whether they are veterans or not," he wrote, "[the vendors] should not be allowed to sell on this most important and prestigious shopping street."
At times, his remarks on veterans and military service have veered into outright mockery. In a 1997 interview with Howard Stern, Trump likened his determination to avoid sexually transmitted infections to serving in combat. His sex life in the 1980s was "my personal Vietnam," he said. "I feel like a great and very brave soldier." Last summer, he declared that Senator John McCain—a former Navy pilot who was held prisoner for five and a half years and tortured by the North Vietnamese—was "not a war hero." His reasoning: "I like people that weren't captured."
Meanwhile, when Trump has weighed in on national security questions, his remarks often reveal either ignorance or disdain for military expertise and the codes of conduct that govern the armed forces. "I know more about ISIS than the generals do. Believe me," he boasted in one speech, adding, "I've had a lot of wars of my own. I'm really good at war." His foreign policy prescriptions include proposals to "bomb the shit out of ISIS," to "take out" the families of ISIS members and to torture terrorism suspects. ("Would I approve waterboarding? You bet your ass I would," he told one crowd. "And you know what? If it doesn't work, they deserve it anyway, for what they're doing.") When it was pointed out that soldiers couldn't legally carry out those last two actions, Trump was unconcerned. "They're not going to refuse me. Believe me." (He walked back that last statement the next day.) The Geneva Conventions, he recently observed, have made American soldiers "afraid to fight."
Trump's pronouncements on foreign policy, combined with his years of broadsides, have set off a very real fear within military circles about what might happen were he to become president. In the last two months, I spoke with dozens of people in the national security realm—current and retired officers, veterans of the wars in Iraq and Afghanistan, and former White House, State Department, Pentagon and CIA officials. The words they used to describe their mood: Terrified. Shocked. Appalled. Never before, they say, has a candidate gotten so close to the White House with such little respect for the military.
One former Marine infantry officer described Trump as a "fake-bake-ing chicken hawk."
"He completely misunderstands the military profession that he would head if he were the president," said Robert Killebrew, a retired colonel who served in the Army for more than 30 years. Others were less polite. In a pair of ads produced by the American Future Fund, a retired Special Forces commander named Michael Waltz calls Trump a draft-dodger who "hasn't served this country a day in his life," and a Vietnam veteran, Tom Hanton, says that Trump's quip about POWs was "the most infuriating comment I think I've heard from a politician in my entire life." One former Marine infantry officer described Trump to me as a "fake-bake-ing chicken hawk" whose "knowledge of the Middle East could be trumped (sorry) by your average Georgetown sophomore."
Trump's chosen foreign policy advisers—which include a 2009 college graduate who touted his experience in the Model U.N. on his online résumé and another who used Kanye West lyrics to make arguments on his foreign policy blog—have only stoked these anxieties. "Weirdo nobodies," was how one military historian characterized them to me. "They're probably the least qualified group of foreign policy and national security advisers I've ever seen or even heard of," said Richard Kohn, an expert in civil-military relations and retired professor at the University of North Carolina. A source with firsthand knowledge told me that Trump's campaign pursued retired General David Petraeus, Middle East scholar Daniel Pipes and former U.N. Ambassador John Bolton, but all three men declined. In a TV appearance not long afterward, Trump said he wouldn't hesitate to replace the members of his military team if they didn't agree with him. (Trump's campaign didn't respond to multiple requests for comment.)
For even the savviest of presidents, the relationship between a commander in chief and his military is famously fraught, an intricate dance of egos and agendas, worldviews and bureaucracies. A President Trump, however, could usher in a clash of historic proportions. "If you take the man at his word," said Michael Breen, the president of the Truman National Security Project and a decorated former Army officer, "we have a presidential candidate who seems to have committed himself to triggering what would probably be the greatest crisis in civil-military relations since the American Civil War."
One of the first tasks of a new president is finding the right people to surround himself with. His cabinet members are there to enact his agenda, and if they fail to do so, he can pressure them to resign or fire them. The president's relationship with his military leaders is fundamentally different. While he gets to appoint both the secretary of defense as well as the chairman of the Joint Chiefs of Staff, the latter is an apolitical figure, not a partisan official. The incoming White House typically inherits the previous administration's chair of the Joint Chiefs (the leaders of the Army, Navy, Air Force, National Guard and Marines) and combatant commanders. The president cannot control what his generals say to Congress. And while he technically has the power to remove three- and four-star generals from service, it's far riskier to dismiss a general than a cabinet member gone rogue. "If a military official resigns, it's a crisis in civil-military relations," said Peter Mansoor, a retired Army colonel and former executive officer under Petraeus. "If a cabinet position does that, it's just politics."
Probably the most famous example of such a crisis was when President Harry Truman canned Douglas MacArthur—and that didn't end well for Truman. MacArthur was revered for his leadership in WWII. (One of his aides praised him as "the greatest man since Christ.") But after Truman named the 70-year-old general the supreme commander of Allied forces in the Pacific during the Korean War, MacArthur started ignoring orders, withholding information about his operations, and publicly questioning Truman's policy. So Truman removed him from his post, effectively ending his military career.
It was a deeply unpopular decision. Letters poured into the administration demanding Truman's impeachment and calling him "a Judas" and "the pig in the White House." Meanwhile, when MacArthur returned to the United States he was greeted with parades and endless praise. The Senate held hearings on MacArthur's dismissal, during which the general blasted his president's foreign policy. Truman, who privately said MacArthur's testimony was "a bunch of damn bullshit," never recovered, and in March 1952, he announced he would not run for re-election.
The military leadership's independent nature gives it considerable power to fight back against a president it doesn't like. As chairman of the Joint Chiefs of Staff in the 1990s, for instance, Colin Powell nearly derailed President Bill Clinton's administration in its first year. The military brass was skeptical of Clinton long before he arrived at the White House. He was the first antiwar president, having avoided the Vietnam War and once writing of "loathing" the military. During the 1992 campaign, he'd pledged to rewrite the military's laws to allow gays and lesbians to serve openly.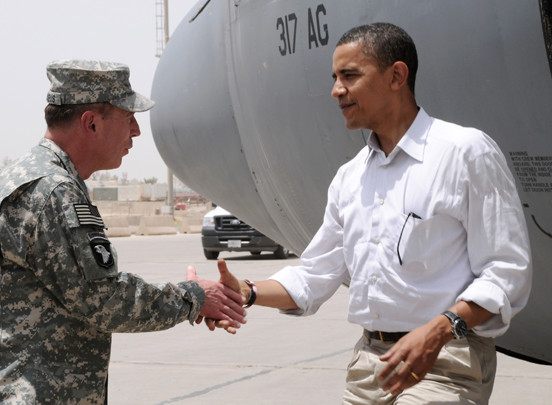 Powell had no intention of letting this happen. The four-star general viewed the new president and his team as "children," as diplomat Richard Holbrooke later recalled. Powell was a charming operator with an inspiring life story who had spent most of his nearly 35-year career in Washington and knew how to work the levers of power. ("You show me a general in Washington who ain't political and I'll show you a guy who ain't going to get promoted again, and probably should not be a general in the first place," he once said.) Shortly before Clinton's inauguration, he told a class of Naval Academy midshipmen that if they found Clinton's policy "completely unacceptable and it strikes to the heart of your moral beliefs, then I think you have to resign."
Five days after Clinton's inauguration, Clinton met with Powell and the rest of the Joint Chiefs in the Roosevelt Room. "[Homosexuality] is a problem for us," Powell informed the new president, according to a notetaker. One by one, the rest of the generals flatly opposed the president's plan. Furthermore, as former White House aide George Stephanopoulos wrote in his memoir, the Joint Chiefs had already lined up congressional support for their position: "Their message was clear: Keeping this promise will cost you the military. Fight us, and you'll lose—and it won't be pretty."
And that's essentially what happened. Powell did little to quash rumors that the entire Joint Chiefs would resign if Clinton went through with the policy. During the next nine months, the battle over the issue cost Clinton dearly. Eventually, he agreed to Powell's proposed compromise, which we now know as "Don't Ask, Don't Tell." "The new president had been rolled," wrote historian Matthew Moten in his book Presidents and Their Generals.
The Bush administration, meanwhile, provided a disturbing preview of the damage that can be done when a civilian leadership pushes the armed services to adopt policies of dubious legality. Donald Rumsfeld, Bush's defense secretary, was regarded as uninterested in the military's advice and dismissive of the Joint Chiefs. After September 11, 2001, Rumsfeld authorized the use of "enhanced interrogation techniques"—practices that exposed the U.S. to charges of violating the Geneva Conventions and the War Crimes Act. The decision set off years of turmoil within the armed services. Retired Colonel Lawrence Wilkerson, the former chief of staff to Colin Powell, who was by then secretary of state, said that there were numerous instances of individuals in the chain of command sitting on the order to introduce abusive—and, some thought, illegal—interrogation methods in December 2002. "There was never a collective agreement to do the things that Rumsfeld told people to do in that memo," Wilkerson recently told me. "There were certain leaders that passed on and gave orders based on those documents, but there are lots and lots of people who walked away from it and refused to do it."
Former CIA general counsel John Rizzo predicted an employee "exodus" if Trump became president and followed through on his proposals.
Alberto Mora, the Navy's general counsel, memorably fought to ban any use of enhanced interrogation techniques, which he believed were torture. Mark Fallon, the deputy commander of the Pentagon's Criminal Investigation Task Force, similarly argued that allowing his agents to witness the acts described in Rumsfeld's order, let alone implement them, would be disastrous. "Either they'll watch the law being broken, or, as sworn law enforcement officers, seeing laws being broken, they may try to arrest the military interrogators," he told his boss, CITF Commander Colonel Brittain Mallow, as recounted in ex-FBI agent Ali Soufan's book, The Black Banners. "Nothing good can come of this."
Retired military officers told me that the effect of this kind of internal dissension can be crippling. "You have usually an enormous decrease in morale because you sense that there's nothing you can do about it," Wilkerson told me. "Your values are being disrupted; you feel powerless." Andrew Bacevich, a retired Army colonel and military historian, said that "any policy that is inconsistently applied creates confusion and consternation in a hierarchical organization."
On some occasions, the military has been able to use the tools at its disposal—the press, Congress, calculated leaks, endless bureaucratic maneuvering—to reshape a president's entire policy. President Barack Obama, for instance, arrived in office determined to end the wars in Iraq and Afghanistan. But he encountered two formidable opponents in Petraeus, the head of the U.S. Central Command, which coordinates military activities across the Middle East and Central Asia, and Lieutenant General Stanley McChrystal, who the new president had named the top commander in Afghanistan.
McChrystal's effort began with a 66-page classified review of the war effort that reached the opposite conclusion to the one favored by Obama. In McChrystal's assessment, he argued that he needed at least 40,000 more troops in order to succeed in Afghanistan. Petraeus, the respected architect of the surge who was being talked about as a future presidential candidate, stumped for additional troops in the media. Admiral Mike Mullen, the chairman of the Joint Chiefs, tacitly endorsed McChrystal's plan in testimony before the Senate Armed Services Committee.
Then the classified McChrystal report was leaked to Washington Post reporter Bob Woodward. On September 21, 2009, the Post ran Woodward's story on the front page: "McChrystal: More Forces or 'Mission Failure.'" The impact of this leak is hard to overstate. It essentially forced Obama to take ownership of the Afghan War—a move he and his aides had resisted. If he stuck with his preferred option, he would be contradicting a respected general in the field who was predicting near-apocalyptic consequences unless additional troops were dispatched. At a speech at the International Institute for Strategic Studies in London, McChrystal was asked if a more modest approach could work. "A strategy that does not leave Afghanistan in a stable position is probably a shortsighted strategy," he said. Obama was furious, according to Woodward's book Obama's Wars, telling his aides: "We've got to stop this."
In the end, he couldn't. In a December 1 speech at West Point, Obama ordered 30,000 new troops into Afghanistan. McChrystal could—and did—find another 10,000 soldiers from the ranks of the coalition forces, which meant he got his 40,000. The generals had won.
In the many books by and about Trump, and in interviews given by his employees past and present, a clear picture emerges of his leadership style. Trump prides himself on his unpredictability—"My moves are totally uncalculated," he boasted to one biographer. He's known as a micromanager who insisted on personally signing company checks and calling people his employees had already contacted to check their work. By his own admission, he gets "bored too easily" and relishes shaking up a company or an industry. "My attention span is short and probably my least favorite thing to do is maintain the status quo," he has written. "Instead of being content when everything is going fine, I start getting impatient and irritable." The culture at Trump's company has been described as Darwinian. "He really believed that having people fighting and in conflict for approval made them work harder," Trump's former executive secretary, Rhona Graff, once recounted.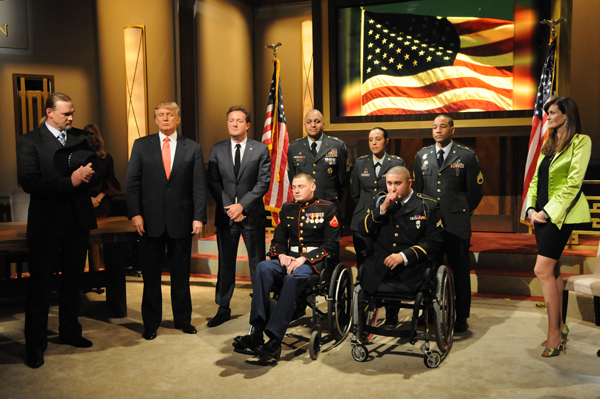 The military leaders that Trump would inherit are, by all indications, less forceful personalities than Powell, Petraeus or McChrystal, but it's hard to imagine them responding well to this kind of behavior. The current Joint Chiefs chairman, Marine Corps General Joseph Dunford, is known as an especially skillful operator able to bridge the diplomatic and military worlds, with a low-key demeanor that helped to win over Obama. And in recent months, Dunford has found subtle ways to signal disapproval of Trump's statements. When he was asked during a Senate Armed Services Committee hearing about Trump's support for torture and attacking the families of suspected terrorists, Dunford didn't mention Trump by name, but observed that such orders would have an "adverse effect" on "the morale of the force" and "aren't legal for them to do anyway." He also pushed back against Trump's assertion that NATO was "very obsolete" by telling reporters, "In my mind, the relevance of NATO is not at all in question." In an indication of how much Trump's statements on national security have triggered intense debate within the military, Defense Secretary Ash Carter has made it clear he doesn't want officials weighing in on campaign politics.
The nation's intelligence agencies have also been gripped by similar anxieties about the prospect of a Trump presidency. CIA Director John Brennan recently told NBC News that he would refuse to execute orders from a future president to use waterboarding. John Rizzo, the former CIA general counsel who worked at the agency for 35 years, told me that the employees he still spoke with were "terrified" at the prospect of reopening the debates over the use of waterboarding and other harsh interrogation techniques. "Deep concern is a mild way of putting the prospect of their commander in chief basically ordering them to go down this road again given all the trauma," he said. If Trump won and followed through on his proposals, Rizzo predicted an employee "exodus." "At a minimum," he went on, "people would refuse to participate in anything resembling the former interrogation program and insist on a transfer to another part of the agency where they wouldn't be involved in these things."
Meanwhile, with Trump still in a strong position to clinch the Republican nomination, some current members of the military bureaucracy are starting to game out exactly what they would do if he were elected. There are some who think Trump's brash persona might actually be an asset. Wilkerson, the retired Army colonel, told me he'd recently spoken to an active-duty colonel who thought Trump might force through welcome changes to the military establishment. "If Trump comes in and shakes up these graybeard idiots," Wilkerson said the colonel told him, "I'm all for it."
But such sentiments seem very much the minority view. Earlier this year, Bryan McGrath, a defense consultant and former Navy officer of 21 years, watched in shock as Trump climbed to the top of the Republican field. He dusted off an anti-Trump manifesto he'd written the previous fall and sent it to Eliot Cohen, a former State Department adviser and professor at Johns Hopkins University. McGrath and Cohen polished up the letter, sent it to their contacts in the foreign policy community, and on March 2 published it on the website War on the Rocks with nearly 100 signatories. The letter charged that Trump would "make America less safe" and was "utterly unfitted to the office."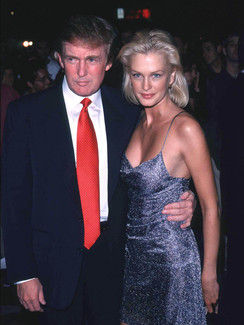 After the letter was published, McGrath said, he heard from numerous active-duty officers voicing disgust for Trump. One junior officer said he would be duty-bound to resign his commission if Trump were elected. A more senior officer wrote to say, in McGrath's words, that "if [Trump] thinks that I am going to carry out an unlawful order, he has another thing coming." Max Boot, a senior fellow at the Council on Foreign Relations, told me in an email that he had also heard from an officer who said "he'd retire sooner than serve under President Trump."
I recently spoke to a 32-year-old Army reservist named John Ford, a captain in the Judge Advocate General's Corps. Ford told me that he hadn't taken Trump seriously as a candidate at the start of the year. But then Trump's victories in New Hampshire and South Carolina solidified his first-place slot in polls for the GOP primary, and Ford started thinking in some detail about the unthinkable. "I would probably not resign right away" if Trump were elected, he told me. "I would see to what extent Congress can keep him in check." Ford believed many other servicemen and servicewomen were grappling with this question: "They're basically thinking to themselves, 'How do I finesse this? What are the odds I personally would actually be asked to do something illegal or unconscionable?'"
The choice, as Ford saw it, would come down to two options: Quit before you're asked to do something illegal, or remain in the service and fight back against unlawful orders. Neither option was particularly appealing. The problem with quitting, Ford pointed out, wasn't only that it meant giving up his career and letting down his fellow officers. It would mean a U.S. military dominated by the type of people who would go along with an off-the-rails Trump administration. "If everybody who disagrees shows up on January 21 and says we all resign, well, who's left?" he asked. "It's the people who are not going to provide any pushback and who aren't going to sit on actions that are illegal."