I n early 2007, Brandissimo was a fledgling youth marketing agency with a corporate frat house vibe. Its 20 employees worked out of a cramped three-room office in Southern California's San Fernando Valley; some desks were packed together so tightly that you couldn't back out of one chair without bumping into another. It was the kind of prank-heavy place where you might walk in one morning to find your computer surrounded by 10 empty water cooler bottles, or where you might be talked into joining a zombie unicorn drawing competition, no matter how busy you were.
And then the National Football League called. For decades, the NFL had funneled most of its advertising dollars to large, New York-based legacy firms. Everyone knew what to expect from that arrangement: commonsense product tie-ins, 30-second ad spots. By tapping Brandissimo, the league made it clear that it wanted a different kind of partner for a different kind of project.
Brandissimo's founders had previously worked for Disney and had helped produce well-known kids television shows like "Doug" and "Thomas the Tank Engine and Friends." But they didn't bill themselves as just TV guys or mobile guys or video game guys—they sold a more complete vision. They were the experts in grabbing a child's attention and then holding onto it across the most popular platforms. One of Brandissimo's mottos was: "Because kids who play with your brand, stay with your brand."
Shortly after landing the multimillion-dollar NFL account, Brandissimo hired a quiet 29-year-old named Allison Guiliotis. Even though Guiliotis grew up in the football-obsessed Southeast, she knew almost nothing about the sport and cared even less. She got her bachelor's degree in ceramics from the Kansas City Art Institute and moved to LA so that she could work at a gallery. She only joined Brandissimo because she got tired of being broke.
The NFL was a demanding client—before long, she was working 60-hour weeks—but unlike many others, it made its objectives clear. It wanted to "get to kids as early as possible," Guiliotis says. "They talked about creating lifelong customers." To that end, the league had Brandissimo create a website and a virtual world meant to entice kids.
The league was also aware that nothing had boosted people's investment in the sport quite like fantasy football, which incentivizes fans to pay attention to several games every week. "It is an incredible mechanism if you are trying to create an addiction to football at a young age," says Gregg Witt, the executive vice president of youth marketing at Motivate Inc., another Southern California agency. So the NFL asked Brandissimo to help connect kids with NFL Rush Fantasy, the first such game created by a pro league aimed exclusively at young children. 
Kids as young as 6 years old were encouraged to pick a team of NFL players each week and compete for the most fantasy points with other kids across the country. And the prizes were extraordinary. Between 2008 and 2015, weekly winners of NFL Rush Fantasy could receive an XBox One or a $1,000 scholarship. For several years, the season-long grand prize was a $10,000 scholarship. But, tellingly, the word "scholarship" was surrounded by quotation marks in the fine print of the game's rules. Kids just got checks in the mail and were free to do with the money as they wished.
In June, I called Kyle Turley, a former NFL player who has become an outspoken critic of the league, particularly its treatment of former players. He isn't easily shocked by the NFL's methods, but when I told him about the fantasy game, which he'd never heard of, he let out an exasperated growl. "The NFL is desperate," he said. "This is the kind of thing you do when you don't care about anything but making sure the money keeps rolling in."
From the outside, the NFL looks like one of the jewels of American capitalism. It remains the most profitable sports enterprise in the world, with $12 billion in revenue in 2015. (The NBA generated about $5 billion last year.) The league also has hundred-million-dollar deals with corporate sponsors like Microsoft, Gatorade and Anheuser-Busch as well as close relationships with several federal agencies, including the military, which uses the sport's popularity to bring in new recruits. Going into this season, a throwaway match-up between two teams with losing records would often draw more eyeballs than a World Series game, putting to rest any questions about what the national pastime really is.
'There was no self-reflection. No pause. It was, What can we get kids to do that makes the NFL happy?'
But a closer look at the trend lines reveals that the NFL's financial and cultural dominance may be at risk. The damage the sport does to young men's bodies and brains has simply become too obvious to ignore. A growing number of public figures, from President Obama to LeBron James to Brett Favre, have said that they wouldn't let their children play the game—and polling shows that 40 to 50 percent of parents agree with them. Between 2009 and 2014, youth participation in the game dipped markedly. What's more, the number of men between 18 and 24 watching NFL games dropped by 5.3 percent from 2010 to 2013, according to Nielsen data. And one of the main storylines of the first half of this season was the precipitous collapse in ratings. The game is losing athletes and fewer young people seem to be in love with the league, two bright red flags.
In response, the NFL has initiated a campaign to secure the next generation of fans that is unprecedented in the history of professional athletics. And the fantasy game is just a sliver of it. Brandissimo is just a sliver of it. The NFL has infiltrated the school system, it has produced a football-themed animated television show that aired on NickToons and it is currently executing a multi-dimensional plan to convince concerned moms to let their kids play. There's a team of people working out of NFL headquarters in Manhattan whose professional lives revolve around getting kids interested in the game.
And this is all happening at a time when almost no one who is knowledgeable about the sport, including me—a former high school player who's in two fantasy leagues and still watches NFL games every Sunday (and Monday and Thursday)—feels comfortable with football's impact on children. How it can alter their brain chemistry, how a handful of young players die each year, how we're only beginning to understand the extent of the damage that's being done. That's why so many of the people I interviewed for this article made a point of saying that the NFL's youth efforts, while brilliant, are absolutely devious. Over and over, I heard comparisons between the league's marketing work and that done by the coal industry or Big Tobacco, conjuring images of Joe Camel in a helmet and shoulder pads.
The league believes its efforts are more benign. "We are always looking for new ways to engage the next generation of NFL fans and connect with kids in unique and authentic ways," a spokesperson told me.
Being a part of the NFL's apparatus eventually began to eat away at Guiliotis. She dreaded going to work. When she participated in calls with members of the NFL's department of Fan Development & Marketing, she said they applied constant pressure on Brandissimo to find new ways to hook kids. "It was a weekly, almost daily thing: how do we increase kids' time on site," she said. And she hated that around Brandissimo's offices, "there was no self-reflection. No pause," she said. "It was, What can we get kids to do that makes the NFL happy?" (Andy Babb, Brandissimo's president, declined to comment and referred all questions to the NFL.)
After three years at Brandissimo, and almost as soon as her husband got a job that enabled her to work less, she quit. She teaches ceramics to kids now and says she's happier than she's been in years. But every so often, the old anxiety creeps back in.
"I see a game on TV and I just get mad," she says. "I have seen the NFL's motivation and what a big corporation like that is willing to do, and it's scary. I parent differently now because of what I know. But I can only shield my child from it. What about other kids?"
In August 2012, Amanda Rodriguez was unsure if she should let her young son play football. Will, the second of her three children, had a strong interest in the game, but he was only 6. Too young, she thought, too fragile, especially considering all that she had heard and read in recent years about head trauma. But Will really wanted to play and "I guess I just got tired of fighting about it," she told me. Almost as soon as she enrolled Will in a local league in a Maryland suburb of Washington, D.C., she started thinking about ways to take him out.
At around the same time, the NFL was doing some soul-searching of its own. League officials, beset by an endless stream of reports about concussions and player safety, were developing new strategies meant to combat the idea that football was dangerous for kids. They wanted to try out their pitch on some moms. So they contacted managers at two female-centric websites—iVillage and Babble. Both were owned by broadcasting partners of the league (iVillage by NBCUniversal; Babble by Disney/ESPN), so the officials knew they would be presenting to a friendly audience.
That's how Rodriguez, who contributed videos and blog posts about her parenting adventures to iVillage, found herself in a conference room at NFL headquarters, along with about a dozen other moms. Roger Goodell, the league's commissioner and a smiling, broad-shouldered charmer when he needs to be, started the event by assuring the moms that the league was implementing programs that would "change the culture" of the game. He then took some photos with everybody before turning the presentation over to a series of speakers who made it clear that they wanted "to learn what our fears were about football," Rodriguez says.
According to her and Sharon Rowley, another parent who was there, the officials spent a good part of the day telling the moms about a player-safety initiative they were developing called Heads Up Football. The program would require coaches of kids' teams to receive a certificate for teaching tackling techniques that reduce helmet-to-helmet contact. Rodriguez and others in the room loved the simplicity of that approach. Heads Up Football would also call for more parental involvement in youth leagues, the officials said. For instance, parents would be encouraged to monitor the tackling drills that coaches used. The moms responded well to this, too—they liked feeling as if they had agency over the safety of their children.
The NFL's messaging in other areas still needed tinkering. When the presenters were asked how concussion concerns in soccer and others sports compared to those in football, they didn't have a good answer. So at a later gathering with Rodriguez and some of the same moms, they came prepared. They brought speakers from other sports who said that football was not alone in dealing with this issue. The basic argument was: If soccer and lacrosse were just as risky, what justification did moms have for blacklisting football? And it worked. Today, when other moms tell Rodriguez that they can't believe she lets Will play football, she responds, "I can't believe you let your child ride a skateboard."
'I never wanted my kids to not chase their dreams because I was afraid of something.'
Its message sufficiently honed, the league started putting together "Moms Football Safety Clinics"—larger, more polished versions of the Manhattan meetings—all across the country. The early clinics, held during the 2013 season, were heavily promoted by the league and covered extensively by the press, but I wanted to know what happened when no one from the league knew the media was present. So I asked Carolina Gazzara, a 22-year-old graduate student in journalism at the University of Alabama, to go to the May 17 clinic in Birmingham. She preregistered online (at no cost) and gathered with about 120 other women—predominantly black, many with kids already playing in local leagues—at 6 p.m. in the cafeteria at Spain Park High School.
The first order of business was the buttering up. Moms were given Atlanta Falcons T-shirts and a bag with the team's logo on it. They were treated to a dinner catered by Outback Steakhouse and given coupons for the restaurant. As they ate, Freddie Falcon, the Atlanta mascot, buzzed around on a hoverboard posing for pictures.
After that, a group of speakers, including a couple of former players, explained the theory behind Heads Up Football and claimed the sport is now much safer because of it. The presenters offered just enough general health and safety information to be able to argue that the clinics provide a broader service, and just enough talk about concussions so that no one could say the issue was ignored. Former Alabama quarterback John Parker Wilson acknowledged that he had suffered a few head injuries over the years, but he and former Falcons linebacker Buddy Curry told the women that they'd play football over again if they could.
At the end of the clinic, the moms were led outside and put through some Heads Up Football drills. One exercise required them to get into an alert tackling position, knees bent, butt out. "Ohhh, I like it," one of the coaches said to the group. "Let me see that boom-boom." Gazzara said that none of the moms seemed to mind; a few even flirted back.
All the parents she spoke with at the clinic said that they left feeling comforted. The event had affirmed their choice to let their kids play football, and they liked all the free gear they could bring home. "They were mostly just excited to be involved with an event put on by an NFL team," Gazzara said.
It's clear that these events work brilliantly as promotional devices for the league. But if you judge them by the depth and validity of the information provided to parents, they are shameful. As Anne Osborne, a professor at Syracuse University who co-wrote the book Female Fans of the NFL, told me, "The goal of the Moms Clinics isn't really education. It is indoctrination."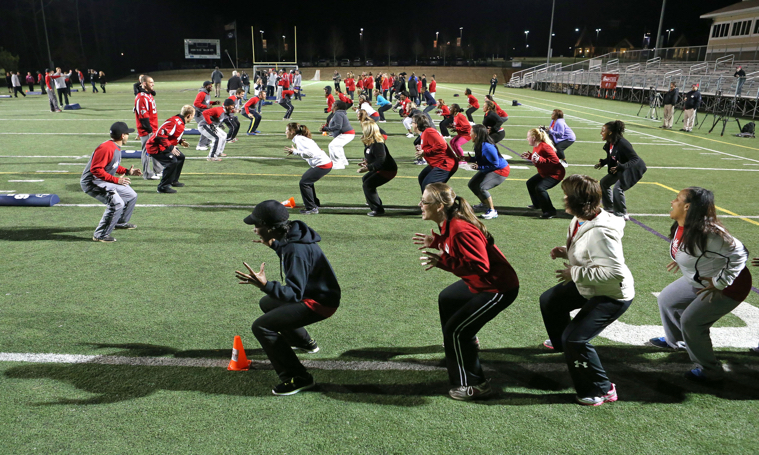 For one, the league seriously downplays the risk of head injuries. NFL surrogates have become experts in deflecting questions and muddying what we know about brain trauma. Amanda Dinkel, the Falcons' community relations coordinator, admitted to the group of moms in Birmingham that "concussions are on the rise." Then she waited a beat: "At least in the media." (A spokesperson for the Falcons said he spoke to Dinkel and reviewed her notes for the Moms Clinic. "We feel confident that is not exactly what she said," he told me.) At others Moms Clinics, it's been said that children are more likely to get a concussion riding a bike than playing football. But that's only true if you include girls in the dataset or limit it to boys under 10. In boys over the age of 10, football is clearly the greater danger.
"Like all contact sports," a league spokesperson said, "there are risks, and we are committed to ensuring parents and players have the facts and information to make the best decisions for their families."
The Birmingham clinic also passed without anyone addressing chronic traumatic encephalopathy, or CTE, a degenerative brain disease found in 90 of 94 NFL players whose brains have been studied after their deaths. "That omission is intentional," says Chris Nowinski, CEO of the Concussion Legacy Foundation. "The NFL focuses on concussions because that seems like a problem that can be solved through initiatives," like Heads Up Football (which was actually found to have a minimal effect in reducing concussions). "The concern for parents," Nowinski continued, "should be preventing the numbers of hits to the head their children are taking overall, not just whether or not they get a concussion. You can get CTE without suffering a concussion."
Nowinski believes that if kids didn't play tackle football until high school, their chances of developing CTE would be greatly diminished. But that is a damaging proposition from the NFL's perspective. League research shared with The Wall Street Journal showed that 60 percent of diehard fans begin following the sport in elementary school, whereas a majority of casual fans find the sport later. "Nothing attaches a young person to a sport more than playing," says Doug Allen, an original board member of USA Football, the nonprofit the NFL founded in 2002 to promote the sport. If parents took Nowinski's advice, it would devastate football's pipeline of players and fans.
Only in March, after years of denial, did the league acknowledge that CTE was linked to football. This new stance, however, hasn't cracked the messaging at the Moms Clinics. During a break in Birmingham, Gazzara asked Curry about the risks of CTE. "He tried to avoid the question before finally telling me it wasn't as prevalent as it's made out to be," she said. (Curry, when asked for comment, said, "I don't recall answering the question that way." He added, "I never answer that question. It's a science question.")
At a different clinic in Chicago I attended, a mom asked Nick Greisen, a trainer with USA Football who also played in the NFL, when parents should let their children play tackle football. "A good indicator they might be ready," he said, is if a child's neck is strong enough to hold up a helmet.
When I told that story to Nowinski, he remarked that it was a perfect encapsulation of the league's overall approach. The NFL and the people who profit from it will do whatever it takes to get kids to play football, he said, "science be damned."
About 40 years ago, a Nobel laureate named Herbert Simon forever altered the study of how people make decisions by popularizing the concept of "bounded rationality." He argued that since we have limited information, time and ability to process complex matters, we often default to the option that feels acceptable in the moment over the one that is ideal. "In order to have anything like a complete theory of human rationality," he wrote, "we have to understand what role emotion plays in it."
Though that may sound intuitive now, it was a groundbreaking insight at the time. Previously, researchers on decision-making had ignored emotion, treating it as either irrelevant or too unwieldy to take seriously. They were wrong. Emotion is "the dominant driver of most meaningful decisions in life," according to a 2014 paper, "Emotion and Decision Making," written by Harvard professor Jennifer S. Lerner and three colleagues.
With that in mind, I joined about 75 parents and their children this April in Chicago's Grant Park for something called the NFL Draft Family Football Clinic. (Why the league insists on such clunky names for its initiatives should be the subject of another article.) While the rain started to pick up and kids were put through football drills on a nearby field, the parents sat on aluminum bleachers arranged in a half-circle under a strand of leafless trees. They politely listened to a doctor, a trainer, a nutritionist and a former Chicago Bear run through an agenda similar to the one at Moms Clinics. But they perked up for the real stars of the show: the husband and wife team of Mike and Christine Golic.
Mike Golic is an aggressively good-natured former NFL defensive lineman who co-hosts ESPN's "Mike & Mike" and is one of the network's most influential voices on radio and television. In Chicago, he assumed the role of celebrity jokester, feigning shock when the nutritionist suggested Doritos were not a good snack. Christine Golic, who goes by Chris, is known mostly for being the embodiment of the football mom fantasy. She has a wealthy and famous husband who played the game and two sons who earned football scholarships to Notre Dame. As a speaker, she isn't Tony Robbins-style slick, but she has an unassuming, Middle American air, one that easily inspires confidence. She stood in front of the group wearing jeans and a sweatshirt, her brown hair tucked under a white NFL Draft hat. Everyone loved her.
When one mother wanted to know if there was a right age for a child to begin playing tackle football, Chris didn't get into thorny matters of brain science or youth development. She spoke about what she knew. "As a parent," she said, "you have to take into consideration what your child's friends are doing, the social aspect. They want to play with their friends."
I've studied Chris's presentations and interviews from the past few years, and in all of them, she prefaces much of what she says with "as a parent" or "as a mom" and often references her own family to drive a point home. In Chicago, it created a contrast between her and the other speakers. The trainer, the doctor, the nutritionist—they were professionals offering an opinion. She was a mom, sharing her experiences and feelings.
Near the end of the panel discussion, one mother asked what she should say to people who refuse to let their kids play football. Chris Golic answered first. She talked about how so much of what happens to children in the world is out of their parents' control. Then she paused meaningfully and said: "I never wanted my kids to not chase their dreams because I was afraid of something."
Many of the parents in the stands cheered when they heard that. Roger Goodell, who was also in attendance, nodded along. With one sentence she had reframed the choice facing parents. It was no longer: Is football safe for kids? It was: Are you going to stand in the way of your child achieving his dreams? After the panel ended, some moms greeted Chris Golic with a hug.
In its effort to convince mothers to let their kids play football, the league seems to realize that it's not enough to manufacture programs and spin narratives that make the sport seem safer. The league has also injected what psychologists call "incidental emotions"—ones you wouldn't necessarily feel unless prompted—into the calculation. "Parents may already be worried about their child getting a concussion or getting hurt playing football. Those are emotions they are naturally facing with this choice," says Piercarlo Valdesolo, a psychology professor at Claremont McKenna College and one of the authors of "Emotion and Decision Making." "But making parents feel guilty for denying a child an opportunity to play football is framing the choice using an incidental emotion."
This tactic, most prevalent in politics, aims to reduce a choice down to a gut-level decision. Why? Because "everyone's gut can be manipulated," Valdesolo says.
That helps explain the NFL's recent focus on emotional branding,[1] 1. The concept of emotional branding goes way back. In 1929, the American Tobacco Company gave cigarettes they called "Torches of Freedom" to women before New York City's Easter Sunday Parade. The stunt promoted female empowerment—women's rights activists supported it—and the number of female smokers more than tripled over the next 12 years. particularly to women. Since 2014, the league has executed a "Football is Family" ad campaign that leans hard on melodrama. Some commercials feature current or former players talking about their childhood and parents. One had a wide receiver sharing what lessons he hopes to teach his son ("The most important thing is not always about what he can do for himself but how he can help other people"); another featured competing grandparents sending Packers and Bears onesies to a newborn.[2] 2. Bob Costas, who hosts the pregame show for NBC's "Football Night in America," ripped these commercials in an interview with the New York Daily News, saying: "Yeah, that's right, the first thing I think of when I hear about 25% to 30%, by the NFL's own admission, of its players will have cognitive difficulties is 'Football is Family.'"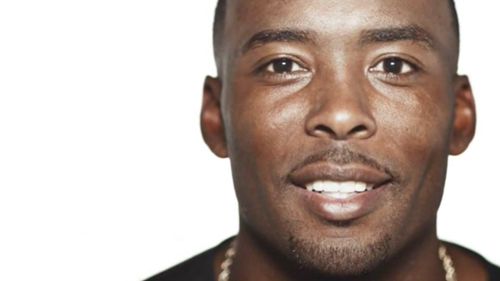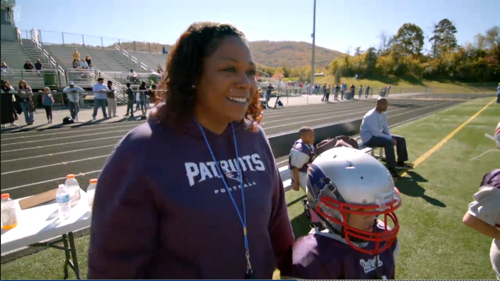 (Top) Andrew Hawkins of the Cleveland Browns in a commercial for the NFL's "Football is Family" campaign. (Bottom) Felicia Correa- Garcia in a video for her winning entry in the "Together We Make Football" contest. source: nfl.com the today show/nbc
There's also the "Together We Make Football" contest, framed as "an invitation to anyone who has been touched by the game of football" to tell a story of why they love it. The winning entries are turned into polished, sentimental works by NFL Films and are then aired on the "Today" show, with its notoriously mom-heavy viewership. One video centers on Felicia Correa-Garcia, a no-nonsense mother of two from Virginia. It shows her teaching the sport to her children and horsing around with them in the backyard before building to the big reveal that she has multiple sclerosis. "Being I'm a single mother of five, and maintaining two jobs, coach sports year round, it is hard, but, I mean, you only live once," she says near the end of the short. You'd have to be emotionally vacant not to love Felicia (and football) by the end of it.
Anne Osborne, the Syracuse professor who studied the NFL's marketing to women, told me that the league enlists its corporate partners to advance similar football-and-family messages. Just think about Kia's "Built for Football Families" commercials, or Campbell's Chunky Soup's "This One's for Mom" campaign. "That is not coincidental," she told me. "They work in concert."
The NFL's gut strategy is so resonant that even non-affiliated organizations, from the foundation that runs the College Football Hall of Fame to innumerable high school teams and youth leagues, have picked up on it. One of those leagues, St. Raphael Football, based in the Chicago suburb of Naperville, has operated tackle football programs for elementary and middle school kids since 1963. Naperville is the kind of football stronghold that the NFL cannot lose if it wants to survive. In 2007, St. Raphael had 2,500 kids. In 2015, it was 1,500.
After reading about the Moms Clinics, officials at St. Raphael organized their own event at the local VFW Hall last year. They served food and wine and handed out hats. The highlight, according to Paul O'Toole, St. Raphael's president, came when the mother of an alumnus who now plays quarterback for Illinois State stood in front of everyone to talk about how much football had meant to her family—how it brought them closer and instilled values like nothing else in their lives had.
"At one point she unfolded this beautiful quilt, and it had her kid's high school jersey on it," O'Toole said. "She was crying up there, and all the moms, 100 moms in the crowd, they were crying, too."
Chris Golic surely understands. When her youngest child went off to Notre Dame in 2012, she found herself with too much free time and in search of something that would "speak to me." Then the NFL asked her if she'd contribute to the league's efforts to reshape the game and its image. She now believes that this is her calling in life.
"I felt like I could be this voice to say that, yes, things need to be addressed, absolutely, but also be the person to say that isn't happening to everybody," she told me. "There are plenty of people who are playing football, enjoying a football career, and while they are walking away with bumps and bruises and aches and pains like my husband has, they are not suicidal and that kind of thing."
Osborne says that companies facing scientific proof that a product is dangerous regularly use people like Chris Golic to shift the message. "They focus on the anecdotal," she told me. "It is like people justifying smoking by saying: 'My grandpa Joe smoked and he lived to be 92.'"
"The NFL puts a family up there that has made it to the pinnacle and says, 'See, this is what you can be with football,'" says Nate Jackson, a former Denver Bronco and the author of Slow Getting Up, a memoir of his playing days. "They hit you with the message that if you want a happy family, you need football."
What makes Chris Golic so effective is that she doesn't come across like a salesperson. She truly does not believe that she is doing the league's bidding. "I'm a mom and your kids are everything to you and I would never want to sell parents something for a company to make money," she says. She isn't going to argue with people who say football is unsafe, or who would prefer their children to play other sports. But she will speak—at length and with passion—about her family and her choice to let her kids play.
"If I ever thought there was information out there that was going to change my opinion on what I am talking to moms about, I would for sure reevaluate my position," she told me.
But that's not going to happen. We talked all about how harmful football can be. She knows the risks. Chris Golic made her choice and, coincidentally, she made it based on emotion. When I asked her if she understood the criticism that the Moms Clinics were selling a dangerous game to parents, she said people could "spin it that way." She then added that she knows it's not true because the people involved in the program have good intentions. How does she know that?
"I call myself the kind of person who follows her gut."
The propagandist is knocking at the school door," the National Education Association warned. The year was 1929, and the group had discovered, to its alarm, that soap manufacturers, banks, insurers and "electric light companies" were sneaking marketing materials into classrooms. The NEA issued a damning report, but over the next several decades, major corporations continued to barge into America's schools by creating lesson plans and sponsoring essay contests. As Chevron, the American Coal Foundation and many others found, few tools inspired lifelong product loyalty quite so effectively.
Today, some of that old propaganda is known by a softer term—"sponsored education materials" or SEMs. With school budgets thin and classrooms overcrowded, SEMs give teachers readymade and vaguely educational lesson plans that just so happen to reinforce how thick Prego spaghetti sauce is or suggest that global warming may be a sham.
The NFL got heavy into SEMs around 2005, partnering with Young Minds Inspired, one of the largest companies in the field, whose other clients include everyone from UNICEF to McDonalds, Pfizer to Newman's Own. YMI claims to reach 8 million preschoolers and 28 million elementary school kids each year. And its sales deck promises that its educational materials "break through the clutter of traditional media" and "deliver the message that your company values learning and cares about family."
The league first worked with YMI on a program designed for fourth- and fifth-graders, called NFL School Smarts. Each student was given 28 trading cards, and teachers were sent a list of activities that incorporated them. Some of the exercises had apparent educational value, such as plotting a player's height and weight on a graph. Others seemed more at home in a casino sports book. For the final activity in the 2006 version of School Smarts, entitled "Game-Day Experiment," students were required to "come up with individual hypotheses about who will win" an NFL game. Teachers were then told to "have students watch the game at home, with their families, to see if their hypotheses were right!" In other words, the assignment was to pick a winner, and the homework was to sit through three hours of television—not exactly a triumph of the scientific method.
The most recent lesson of School Smarts gave kids some tips for safely browsing the web, such as not giving out their home addresses on unfamiliar websites. At the end of the activity, students were directed to a screen that congratulated them on a job well done, with a cross-promotional cherry on top: "Good call! You know the rules for having fun on the Internet. Now check out the rules for having fun at the NFL RushZone. (We call it NFLRZ for short!)"
Faith Boninger, a research associate at the University of Colorado who co-authors an annual report on schoolhouse commercialization trends for the National Education Policy Center, told me that lesson plans like this essentially turn teachers into salespeople. They have to explain football and its rules to every student—not just the ones who like the sport. "I have seen all of the different ways corporations try to get in front of kids," she said, "but these sort of SEMs may be the worst." 
The frustrating part is that SEMs don't have to be this bad. Educators have long debated the value of using sports to teach complex subjects. In 2010, the National Science Foundation, NBC Learn and the NFL partnered to produce a series of video lessons on math and science. They used football to explain Newton's Second Law of Motion (using field goal kicks) and projectile motion (using a punted ball).
Compare that to a School Smarts assignment, which urged parents to become more engaged in their child's educational experience by hosting a "kitchen table tailgate party." Before kickoff, parents were encouraged to ask their child the following questions:
1. How many teams are there in the NFL?
2. Which two states have the most NFL teams?
3. Which NFL team's home stadium is farthest West? farthest East? farthest North? farthest South?
4. There are 16 NFL teams with animal mascots — how many can you name?
A few years ago, Josh Golin, the executive director of the Campaign for a Commercial Free Childhood, was sitting in his office near South Station in Boston when he got a call from a friend of his, a public health attorney. "Have you seen what is going on with the NFL?" she asked him. He didn't know what she was talking about, so he started to poke around and came across the league's use of SEMs. "You hope teachers would see these for what they are and toss them in the recycling bin," he told me. As Golin and his team of four dug deeper into what the league was doing, "the more we were like, 'Oh my God, the NFL is using every trick in the book to market to kids.' Junk food promotion, fantasy football, promoting sedentary screen time. They were using mobile, a TV property, live events, online, getting into schools. It was a 360-degree marketing approach to children."
"NFL Rush Zone," the league's animated television show that aired on Nicktoons from 2011 to 2014, was an especially cynical ploy. The show revolved around a heroic young boy and his friends as they try to guard the NFL from various aliens and robots bent on its destruction. The kids take orders from a blue-skinned general who works out of the NFL's Hall of Fame and says things like: "Without one of their star running backs[3] 3. They were talking about C.J. Spiller, a perpetual disappointment for fantasy football owners who has already played for three different teams this year. The aliens can have him.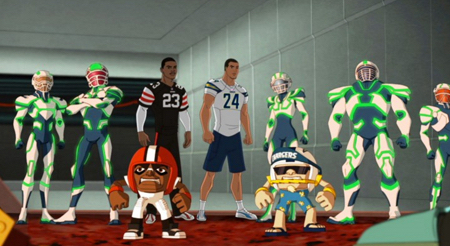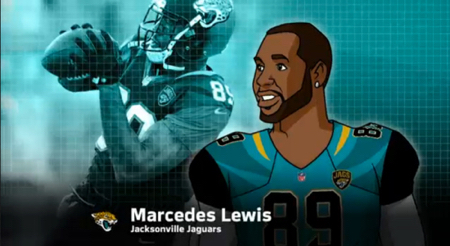 Scenes from "NFL Rush Zone," which aired on NickToons (the Cinemax of kids programming) from 2011 to 2014. and their mega-core, the Bills are particularly vulnerable!" Then, every so often, and with only the slightest nod toward plot, real-life NFL footage is spliced in while a monotonal narrator offers league history. ("The Bills have 17 playoff appearances and are 10-time divisional champions.") There are also random appearances by "Rusherz," Oompa Loompa-like creatures that wear NFL apparel and have giant heads, presumably for maximum exposure of the team logo on their helmets.
Kids television is littered with shows that are camouflaged commercials for a product. How "toyetic" a program is—how easily its characters can be turned into merchandise—is a major factor in whether it gets made. But even in a world where the line between art and marketing has faded, "NFL Rush Zone" stood out. One person who worked on the show surmised that the reason it didn't air on Nickelodeon (sort of the HBO of kids programming) and instead ran on Nicktoons (more of a Cinemax) might have been because "the inception of the idea was a little dirty. ... It was pretty NFL in your face. I'm sure some parents saw it and thought, 'God, this is a just a big commercial for the league.'"
One of those parents was Kyle Turley, the former player who now advocates for NFL alumni. Several years back, he sat down with his son, Dean, who is now 7, to watch the show. "I was gritting my teeth," Turley says. "Not only was it about trying to get kids connected to football, but it also created this perception that there were people out there trying to hurt football and little kids were enlisted to put their lives at risk to protect the game. I couldn't believe they were spreading that propaganda."
The TV show spawned a trading card game, a comic book series, toys, T-shirts and hats. In 2013, the NFL partnered with McDonalds and produced "NFL Rush Zone" Happy Meals that featured 32 collectible toys and "NFL Rush Zone" trading cards. "Think about what kind of statement that makes," Golin says. "We want to reach kids so badly we are not going to worry about luring them in to eat the worst crap there is."
Until it unexpectedly pulled the plug this summer, the NFL also hosted RushZone, an online role-playing game that Brandissimo modeled after Club Penguin, one of Disney's online worlds. Within Rush Zone, kids were able to visit various "lands" of NFL teams to collect virtual gear, chat with friends, interact with the same big-headed "Rusherz" from the TV show or track the real-life happenings of football players and teams. Occasionally, NFL players would visit the RushZone for chats, which Guiliotis moderated. "We were told not to forward any questions about injuries or concussions," she said.
According to Guiliotis, the league was particularly focused on getting kids to buy virtual apparel—whether it was an Inuit suit to stay warm in the chillier parts of the online world, wingtip shoes in NFL colors, Halloween costumes or NFL team "masks" like a Mexican wrestler might wear. The hope was that children would see an avatar with the premium stuff and then buy it for themselves by plugging in their parents' credit card. "There were internal discussions about how to get the kids to want what other kids have," says Guiliotis, who also said that the NFL used software to track the time kids spent in each world and tweaked its strategy to keep them engaged longer.
NFLRush.com, the league's main website for kids, features a bunch of other tools meant to keep them captivated. The site houses more than 80 mini-games, almost all of them football-related, along with polls and trivia challenges. Children can also participate in a "pick 'em" game, where they guess the winners of NFL contests and pit their prognosticating skills against others.
The league's efforts to engage children online have worked. In 2009, the RushZone had 1.5 million registered users. In 2010 it was 2 million, and by 2013 the NFL had signed up 3 million kids. The NFL now knows the names, emails, genders, birthdays and favorite teams for all these kids—a marketer's treasure trove. Golin is afraid of all the power that this new information gives the league as it figures out its next moves. "It's hard to find anything equivalent to what the NFL has been doing," he said.
And then there is this: After several years of decline, the number of American children playing tackle football rose 2 percent in 2015, according to an analysis by USA Football. It's hard to say how much of that can be attributed to the league's marketing initiatives, but that's more than 40,000 kids between the ages of 6 and 14 who have been persuaded to strap on a helmet in the middle of a health crisis we still don't fully understand.
In all my research of all the tactics the league has used to secure a long, prosperous future for itself, I found only one that was easy to get behind. Over the last few years, the NFL and USA Football have emphasized a youth program called NFL Flag. NFL Flag is similar to normal football, except safer: There's no tackling. It also gives local leagues replica NFL jerseys at a heavy discount and provides them with a football for every five children they register, a boon for the underfunded. "We've got footballs coming out of our ears," Richard Rosenthal, the assistant director of recreation for the Medford Parks Department in Oregon, told me.
Thanks in part to those moves, the number of kids playing flag jumped to 1.7 million in 2015, an increase of nearly 10 percent over the previous year. Chris Nowinski, CEO of the Concussion Legacy Foundation, loves this trend. He told me that it would be "so much safer" if more of the roughly 2.1 million kids between 6 and 14 years old who play tackle only participated in flag football before high school. And while that wouldn't be ideal from the NFL's perspective, it's far from catastrophic. "It's still getting football as a brand into a kid's psyche," says Michael Cihon, the founder of the United States Flag & Touch Football League in Ohio. "I have kids in my leagues so young that when they run, their flags are dragging on the ground. Where do you think those kids are going to be at 33? They are going to be in the Dawg Pound cheering on the [Cleveland] Browns."
'It's hard to find anything equivalent to what the NFL has been doing.'
On the face of it, another tactic the NFL relies upon also seems noble. For the past few years, Goodell, Mike Golic and others have railed against the dangers of specialization, the practice of kids playing a single sport year-round. They talk about how it can lead to overuse injuries and psychological stress. Goodell has mentioned it in speeches and pivoted to it under questioning about concussions and CTE. Dr. Neeru Jayanthi of Emory University, recognized as a leading expert in specialization, told me he appreciates that the NFL is drawing attention to the issue. But he hopes that it isn't being used to draw attention away from football's own health concerns.
In the crisis management business, there is a term for what the NFL seems to be doing with specialization, says Gene Grabowski, a partner at kglobal. It is called "switching the witch." If people have a negative opinion of you or your company that can't be dismissed, give them something they can label as a bigger concern.
In a better, alternate universe, the NFL might realize that these sorts of deflections are dangerous. But we don't live in that universe. Where we live the leverage the league has over the advertising and media industries almost perfectly ensures that nobody will call the NFL out. "If you pay attention, you'll notice everyone sticking to the same script," Nate Jackson told me. That's why plenty of people were outraged but few were surprised when ESPN pulled out of a concussion-related documentary with Frontline in 2013—a decision made after league officials reportedly expressed their displeasure to network executives during a tense lunch in midtown Manhattan.
Consider the league's rap sheet over just the last half-decade. There's been a major concussion crisis (accompanied by congressional hearings); the mishandling of several domestic assault cases (accompanied by congressional hearings); as well as a gruesome assortment of other alleged offenses, including child abuse, sexual assault and murder. Yet none of the league's major corporate partners has pulled its support. NFL sponsorship revenue actually grew in 2015, up 4.4 percent to $1.5 billion.
And the possibility that anyone from within the NFL would blab about the league's moral failings seems unlikely. There's a cult-like creed around headquarters: "Protect the Shield." It means that an employee's first priority is, and must always be, the survival of the league. The concept breeds loyalty. People who work for the NFL rarely leave, and those who do often end up at a corporate partner, like Nike or ESPN. Which means that everybody loses money if somebody talks. It's a closed loop.
Earlier this year, the league made big news by hiring Joe Lockhart—who founded the Glover Park Group, one of Washington D.C.'s most effective crisis shops—to be its executive vice president of communications. (Before that, Lockhart served as Bill Clinton's press secretary during the Monica Lewinsky scandal.) The move made sense: The NFL has benefitted from its long relationship with the Glover Park Group, seeking its advice after the Ray Rice domestic battery video came out and using it to lobby Congress over broadcasting rights. Lockhart's arrival was interpreted as a high-profile, chest-thumping signal that the league was going to pursue its detractors more aggressively than ever. But less attention was focused on Paul Hicks, the man Lockhart replaced at the NFL. He went straight to work at the Glover Park Group. (He's also the father of Hope Hicks, Donald Trump's spokesperson.)
Josh Golin has spent a lot time over the last two years fighting against this monolith. In February 2015, he helped release a scathing report on the league's "intense campaign to target children" in the hopes that it would spark outrage. It didn't. So he narrowed his focus just to NFL Rush Fantasy and teamed with the National Coalition on Problem Gambling. After a series of meetings, the league tacitly admitted this summer that it had gone too far by changing the rules of the game. Prizes are now awarded via a drawing involving all participants rather than to the highest scorer. "No longer will a child make money off Eli Manning throwing for 300 yards," Golin says. The NFL also agreed to stop distributing SEMs that promoted the fantasy game.
But none of this signaled a shift in policy. The kids' fantasy football game is still easy to find on the NFL's digital properties. Moms are still being told that the game is safe for their children. And there are still plenty of boneheaded NFL SEMs swimming around American classrooms. When I asked Golin if he was disappointed, or if he felt there was more he could've done to save kids from the NFL's marketing tactics, he just shrugged. "Sometimes you have to try and get a win where you can," he said.