Jack Hitt: The word on the street for days was that the South Carolina debate would be the Rumble in the Jungle that Republicans have long been waiting for. Either Trump and Cruz would knife each other, or one member of the establishment trio—Rubio, Bush, Kasich—would try to kill off the other two and emerge to take on Trump after he'd finished eating Cruz alive. The sense that a bloodletting was coming was only heightened by the news of Justice Antonin Scalia's death, which broke only a few hours before the debate began.
Kevin and I were in Charleston and attempted to find a great local sports bar where riotous Republicans would be cheering their candidate. Instead, they were actually cheering their teams, so we retreated to my sister's house in Mount Pleasant where the gorings paired nicely with a finger of bourbon. To our surprise, when all the shouting finally ended, the general conclusion in the media was that Trump had badly overstepped the line and would now be forced to pay. Pundits have been getting this wrong since last summer. For South Carolinian Republicans, red-hot-intemperance always trumps any distaste they might have for candidates who pick on the Bush family, use bad words or act like a horse's ass. And sure enough, a CBS poll released Sunday morning showed Trump leading the field in South Carolina by 22 points.
Kevin Baker: I never thought I would say this, but Donald Trump looked presidential last night. Or at least, he looked presidential compared to the herd of jackasses arrayed against him, which is a huge difference.
Everyone else on stage once again came off as both heavily programmed and utterly shameless. John Kasich pleaded repeatedly for civility, but was eventually reduced to blurting out, "Jeez-o-man!" at some point. Marco Rubio spoke with a driving but hollow passion, leaving a litter of inanities in his wake. Ben Carson kept asking viewers to visit his website.
One by one, the other candidates showered Justice Scalia with praise for his strict, literal readings of the Constitution—and then piously demanded that President Obama appoint no one to replace him for the remaining 11 months of his administration, or at the very least come up with someone who would win "unanimous" approval—two requirements that do not exist anywhere in the Constitution. Only Trump scoffed that of course he expected the president of the United States to nominate someone for the court, and that he also expected Mitch McConnell and his Republican majority to stop the nomination—an acknowledgment of simple political reality that was regarded as heresy by his rivals.
For good measure, Trump also said that Ronald Reagan had once been a liberal, and that "apart from abortion," Planned Parenthood "does do some wonderful things." While the rest of the field trotted out the same old, tired Republican non-solutions—"if you want to get rid of poverty, get rid of regulations," Ben Carson told us—Trump actually had the temerity to counter Jeb's efforts to canonize W. by snapping, "The World Trade Center came down during your brother's reign, remember that." In a normal year, these observations would be instant political suicide, but in this primary, they made The Donald look all the more like the true, outsider candidate, the one man capable of speaking the truth.
JH: Trump's critics continue to dismiss him as a mere blundering bull who hurls vulgar tweets with impunity. This idea that Trump is some unthinking juggernaut misses his tactical cunning.
Observe what happened when Bush went for the standard thrust, trying to get worked up about Trump's attacks on his family. Chin up and outraged, Bush charged, "He had the gall to go after my mother." ("Gall"—a twerpy WASP word only used by pearl-clutching grandmothers at the country club.) Trump's instinct, when provoked, is not always to maul his attackers. Sometimes he just runs a stick in the spokes to foul the other guy's momentum.
"My mom is the strongest woman I know," Bush said, as Trump leaned into the microphone and whispered: "She should be running." Bush was totally thrown off his stride. "This is not about my family…" (huh?) he blurted, then dribbled off, hoping John Dickerson would ask someone else a question, which Dickerson mercifully did.
But when Trump does counter-attack, it can happen with full Viking bloodlust and an intent to behead. Cruz tried to tee up a big Trump offensive, but he was having a very bad night. He was wobbly from the start after Dickerson fact-checked him about Supreme Court confirmations in a president's final year—a remarkable moment worth reviewing if only to see Cruz's face when someone actually calls him out for making up the truth. Still, Cruz had obviously been practicing his Trump attack all afternoon with his handlers. He had a debater's list of Trump failings on the tip of his tongue, but he didn't get past the second one before the Scottish berzerker brought down his Lochaber axe directly into Cruz's skull. "You probably are worse than Jeb Bush. You are the single biggest liar," Trump said. (A two-fer, that one.) Cruz's querulously angled eyebrows tightened more acutely as he reached for that country-club grandmother's thesaurus, "I will say, it is fairly remarkable to see Donald…" Then Trump finished him: "He's a nasty guy."
KB: By the end, the debate had devolved into continual squabbling, interrupted only by the almost incessant campaign commercials now bombarding South Carolina. Like a deranged robot in some science fiction novel, Jeb Bush's filthy rich PAC, "Right to Rise," keeps pumping out invective for his moribund campaign, most of it ads directed against Rubio. Meanwhile, Cruz's own wacko attack ad against Hillary—an "Office Space" spoof in which a shades-sporting woman in a pantsuit and two trim young men destroy a server with a baseball bat and their bare hands—only succeeded in making Clinton look younger, cooler, and more fun than she actually is.
JH: The most cunning move of the night was Trump turning the entire studio audience into just another candidate in the room and then slapping them around, too. He wallowed in the boos and threw them right back into the auditorium. When he first trashed Bush—"Jeb is so wrong"—the audience roared its disapproval. Trump popped them with a line he's used before: "That's Jeb's special interests and lobbyists talking." True enough, the audience was largely stocked with Bush, Cruz and Rubio supporters. Trump noted that he was alone there except for his wife and son.
In all-star wrestling, there is at least one move per fight that's known as the Holy $h!t moment. (We know this because the written scripts of these wrestling shows have been leaked, and it is a term of art, spelled exactly that way and referred to as the Holy $h!t.) Often that moment comes when the winning wrestler takes a break from toying with his opponents and steps up onto the ropes to taunt the studio audience into booing him. Why? Because the audience he's really speaking to is on the other side of the camera. He's talking to the viewing audience who admire his derring-do. He's taking on the whole damn house! He'll stop at nothing to entertain us!
Trump's voters feel betrayed by the other candidates on the stage, by the RNC and by the establishment audience in that room. All the booing only showered Trump in precisely the kind of hatred that will win him more votes. At one point he was trashing W's Iraq War and the boos started to swell. Trump: "I only tell the truth, lobbyists." Immediately, they shut up and listened as Trump railed that W wasted $5 trillion on useless wars—money that could have been spent at home on jobs to "rebuild our infrastructure." He was sounding like Bernie Sanders for a moment, and yet the chastened room just took it in silence—as far as Trump is concerned, like the pansy-ass little weakling audience that they were.
The Debate's Seven Most Inane Statements:
"My dad fled Cuba in 1957. He was just 18. He couldn't speak English. He had nothing. He had $100 in his underwear." —Cruz

"Two days ago he said he would take his pants off and moon everybody, and that's fine. Nobody reports that." —Trump

"And we need to put people on the bench that understand that the Constitution is not a living and breathing document."—Marco Rubio

"You can fill out your taxes on a postcard and we abolish the IRS. If you want to see the postcard, I've got it on my website."—Ted Cruz

"Josef Stalin said, if you want to bring America down, you have to undermine three things: our spiritual life, our patriotism, and our morality."—Ben Carson

"Look, I won the lottery 63 years ago when I was born, looked up and saw my mom." — Bush

"Vladimir Putin... called me a genius, I like him so far, I have to tell you."—Trump
Jack Hitt: "You are not going to believe this," Jimmy Carroll said, hustling us down the beach on the Isle of Palms, right outside Charleston. "You have to see it."
We arrived at the south end of the island, near the redcoat-swallowing breach inlet we wrote about yesterday, and found a battered gazebo slumped on the beach. "This used to be 100 feet back in the dunes," Carroll said. "You can go on Google Maps and hit time lapse. Go back only four or five years and you can see the change is that dramatic."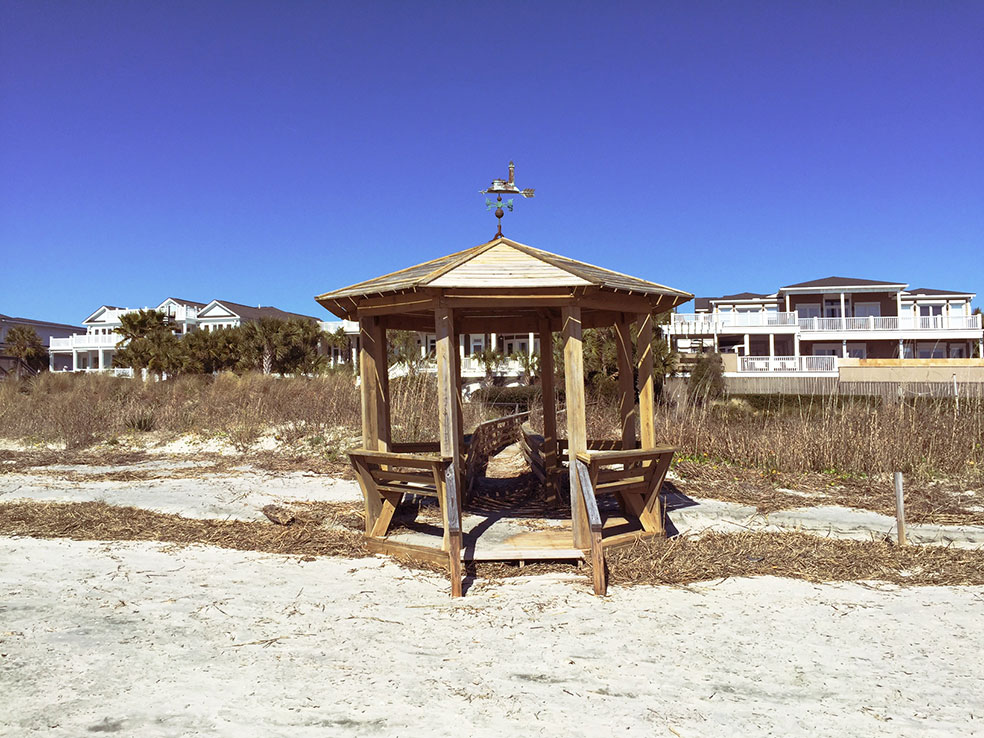 Carroll isn't an environmentalist; he's a very successful real-estate agent and just a pleasure to be around. In fact, he's precisely the guy who has seen up close all of the catastrophic effects of climate change, as well as the odd thinking that accompanies them. "Everybody realizes that we are having more ocean-oriented events, yet I still see people buying on the ocean," he said. "It's like going to Vegas and rolling the dice."
Most of the country might not think that a state as conservative as South Carolina would even be acting on this issue. All the Republican candidates for president either say that climate change doesn't exist or is irrelevant. But the lowcountry, with its solid red constituency, is one of the increasing number of places in the U.S. where one can see some of the most aggressive and innovative work to combat the ravages of climate change.
Kevin Baker: To understand how we got to where we are today, it's useful to take a look at the ghastly politics of, yes, flood insurance. Try not to get too excited.
Until about 1950, flood insurance was included in most basic homeowners' policies. But when more and more Americans started buying houses, and more and more houses were being built on risky floodplains, insurers wrote flood protection out of their policies. By 1960, flood insurance was separate, scarce and pricey.
Trying to address this problem, Congress came up with a fairly practical, bipartisan fix. In 1968, it created something called the National Flood Insurance Program (NFIP). Under NFIP, homeowners could get flood insurance that was subsidized by the federal government—but only so long as they bought or built homes in communities that enforced rules to prevent flooding
NFIP was designed to be self-supporting by homeowners, with money from their insurance policies going directly into the fund. It was even hoped—in those antediluvian times—that enough of a surplus would be accumulated to help homeowners through particularly large disasters. This never really came to pass, but for decades, NFIP did indeed prove to be self-sustaining.
Increasingly, though, local communities became lax about enforcing their floodplain ordinances, and the cost to the feds started to mount. At the same time, Americans started to flock to the water; since 1970, our coastal populations have increased by 40 percent.
By 2003, the General Accounting Office (GAO) was estimating that "repetitive loss properties" were costing NFIP up to $200 million a year. Thanks to cheap, federally subsidized insurance, people just kept rebuilding on ground everyone knew to be dangerous.
Steven Ellis, the vice president of Taxpayers for Common Sense put it this way: "If you're an 18-year-old and you buy a Ferrari, you're probably not going to be able to get insurance. Even if you're a 30-year-old driving a Chevy Cavalier, if you get in an accident, your premiums are going to go up. That doesn't happen with flood insurance. We had properties that flooded 17 or 18 times that were still covered under the federal insurance program."
Still, by 2005, NFIP remained solvent. Total payouts were less than a billion a year—chump change. Then came Hurricane Katrina and Hurricane Rita, which forced NFIP to shell out $13.3 billion to Louisiana homeowners alone.
By mid-2011, NFIP was $18 billion in the hole, with revenues of only $3.6 billion a year. Despite its losses, low-risk flood insurance remained at an average of only $1,489 each year for homeowners; even high-risk flood insurance was just $2,633 annually. NFIP had to make up its deficits by borrowing from the Treasury. That is to say, the rest of us.
Clearly, something had to be done. And once again, Congress came up with a fairly reasonable bipartisan plan. Signed into law in 2012, the Biggert-Waters bill—don't you just love it? "Bigger waters"—ended some of the worst abuses of the feds' largesse.
"Biggert-Waters was one of the most revolutionary pieces of legislation ever passed by Congress related to insurance," claimed Howard Kunreuther, a professor at the Wharton School. For the first time, he said, the government would make property owners pay insurance premiums based on their real level of risk. No way Americans were going to go for that.
JH: What crashed Isle of Palms back in 2007 wasn't a hurricane, but the collapse of the housing market. "Houses lost 50 percent of their value," said Jimmy Carroll, who also noted that about one-half of the Charleston area's 5,000 realtors at the time also dropped out of the business.
But now, new homes are going up everywhere. Driving us around town in his BMW SUV, Carroll pointed to a large new house being built on the beach. "I sold that lot for $1.8 million for a spec house, and the house is already sold," he said. "So the market is back."
And at a truly insane time. Barrier islands have a normal ebb and flow of sand. I grew up on this beach and saw the sand in front of my grandfather's house expand for decades. Carroll has seen the ebb and flow, too, but thinks we've reached some tipping point. "In my lifetime, this is as bad as I have ever seen it," he told me. The areas near the inlets are shedding beach at a clip that's so fast it has affected his sense of ethics as a salesman. There are parts of the island Jimmy considers off-limits. "I won't sell land where it is erosional," he emphasized again and again. "I don't want people calling me up."
Down Ocean Blvd, we walked to the beach on a public path right beside two concrete trucks pouring a swimming pool in the yard of a $5 million house under construction. We gaped openly. In a few weeks the chaise lounges and the table umbrellas will be set around the pool. It's going to be a stunning backyard. But the pool is literally a few dozen feet from where the escarpment plunges straight down into a high-tide surf. The owners may not know it yet, but in a few years, they'll have one of those natural saltwater pools instead.
What we are likely to get is yet another quick, expensive fix for Band-Aid Nation.
KB: No, Hurricane Sandy wasn't "the second largest natural disaster in U.S. history," as the late, lamented Chris Christie liked to claim. But it did leave 117 people dead and cause more than $70 billion in damages across 24 states. It also capsized NFIP.
After Sandy, the program went $28 billion in the hole. And because of Biggert-Waters, the average cost of flood insurance leapt by 55 percent.
Horror stories abounded in the press. It was reported, for example, that Richard and Sandra Drake, of Union Beach, New Jersey, saw their annual premium rise from $598 to $33,000 between 2013 and 2014. Lurie and Michael Portanova, of Pennsylvania, had bought two buildings in their hometown in 2012—only to see their insurance rise from $3,000 a year to $26,868.
There were those who believed that lifelong residents of a shore town, who bought multiple waterfront properties there in an age of radical weather change, maybe did not deserve the support and protection of our federal government. But those individuals did not preside in Congress.
"Let me just say, all of the harm that has been caused to thousands of people across the country—[who] are calling us, [who] are going to lose their homes, [who] are placed in this position—is just unconscionable," Rep. Maxine Waters proclaimed in a hearing to discuss the increase in insurance costs.
Two questions immediately came to mind: 1) Why was Maxine Waters calling her own bill, just passed, "unconscionable"? 2) Just how many calls was she getting from her constituents in California's 43rd, an inner-city district which does not now and never has included any noticeable body of water, flood-prone or otherwise?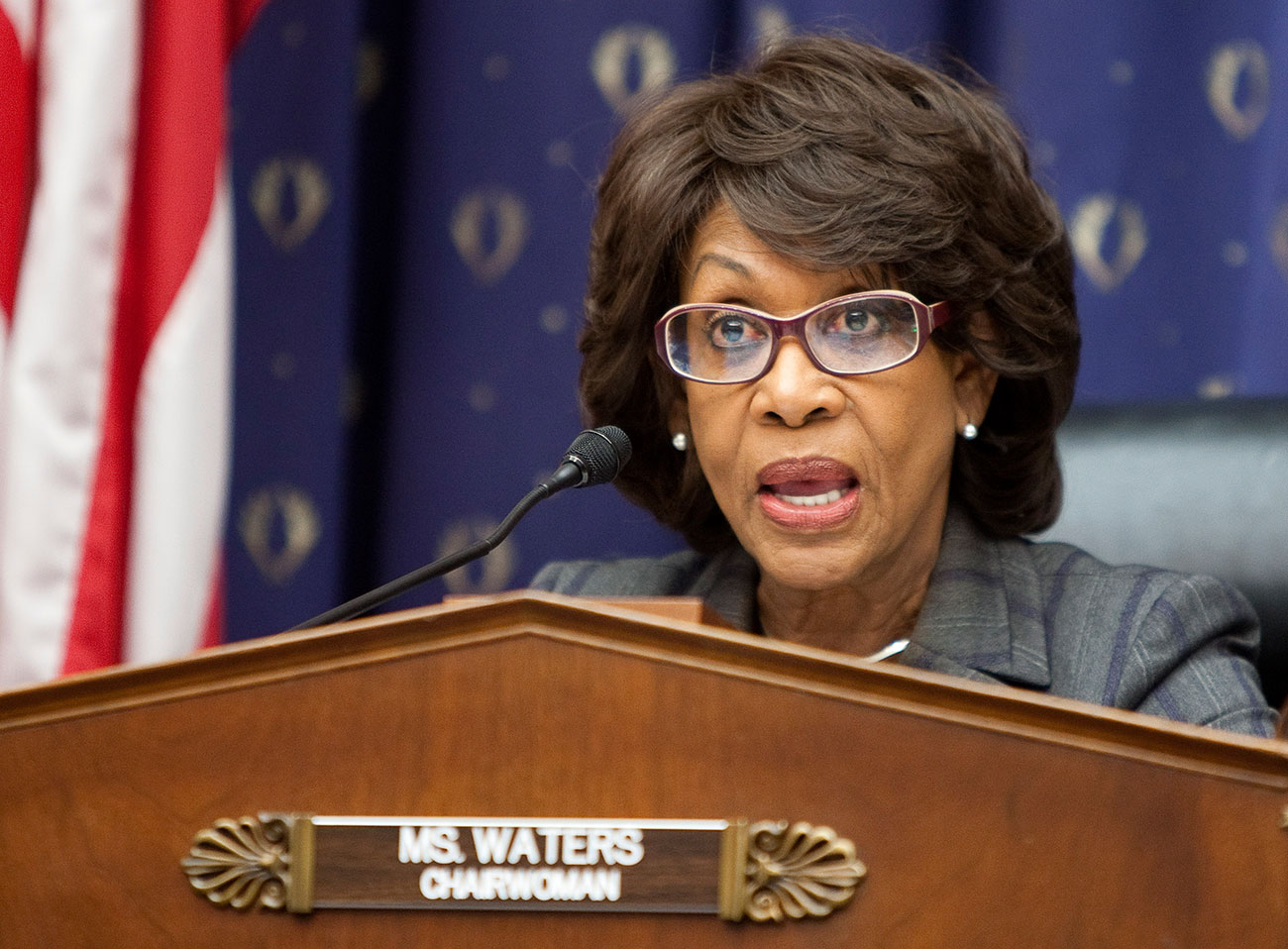 Those questions disappeared after I discovered that Waters's top five campaign contributors are, in order: the Property Casualty Insurers Association of America, the DCI Group (a top right-wing lobbying shop which once surreptitiously released a YouTube video mocking An Inconvenient Truth), AFLAC (you know, with the duck), PricewaterhouseCoopers and KPMG, a giant global conglomerate that was sued by Fannie Mae for signing off on some of the bad numbers that popped the housing bubble and nearly brought down the world's financial system in 2008.
But I'm being cynical.
Let's just say that Waters was honestly worried about Americans with beach homes. So, apparently were Senators Robert Menendez and Johnny Isakson, who demanded changes in Biggert-Waters. Governors, state legislators, insurers and home-builders from all over the U.S. jumped on the bandwagon.
In 2014, just two years after the original reforms to flood insurance subsidies took hold, Congress passed—and President Obama signed into law—the Homeowner Flood Insurance Affordability Act (FHIAA), which restored all those "grandfathered" properties to eligibility for federal subsidies, covered vacation homes again and limited flood insurance increases to a maximum of 18 percent a year.
"The weakened act is much less likely to slow down coastal development in flood zones, and that's bad news for advocates of an aggressive climate change policy," bemoaned Scott Gabriel Knowles, an associate professor of history at Drexel University and author of The Disaster Experts: Mastering Risk in Modern America.
He's wrong, though. If anything, the sort of booming coastal development now transforming Isle of Palms and dozens of other communities around America is likely to increase recognition of climate change and advocacy for a more aggressive policy to combat it. Unfortunately, it may bankrupt us all before it does.
The average American living in a floodplain, mind you, doesn't get subsidized insurance. Of 5.5 million holders of flood insurance, only around 20 percent—usually some very wealthy people—get subsidies.
But as usual, they have us where they want us. Floods are already the number one disaster in these United States—and NFIP is still $28 billion in the hole. And as of 2011, the total value of floodplain properties insured by companies backed by NFIP was $527 billion.
That's right—half a trillion dollars that all of us are on the stick for.
JH: At the north end of the island, Jimmy Carroll walked us out to the beach to show us the work being done to save it. A series of Wave Dissipation System walls lined the edge of the dunes, and, sure enough, the sand inside the walls was a few inches higher than outside, so they did appear to be working. In 2008, this two-mile stretch of the island, which is privately owned, decided to spend $10 million on "sand renourishment."
He pointed to an offshore sandbar and recalled how trucks barrelled out there, every twelve hours at low tide, night-and-day, to truck back sand. "That lasted a few years," he said. And it'll probably have to happen again soon.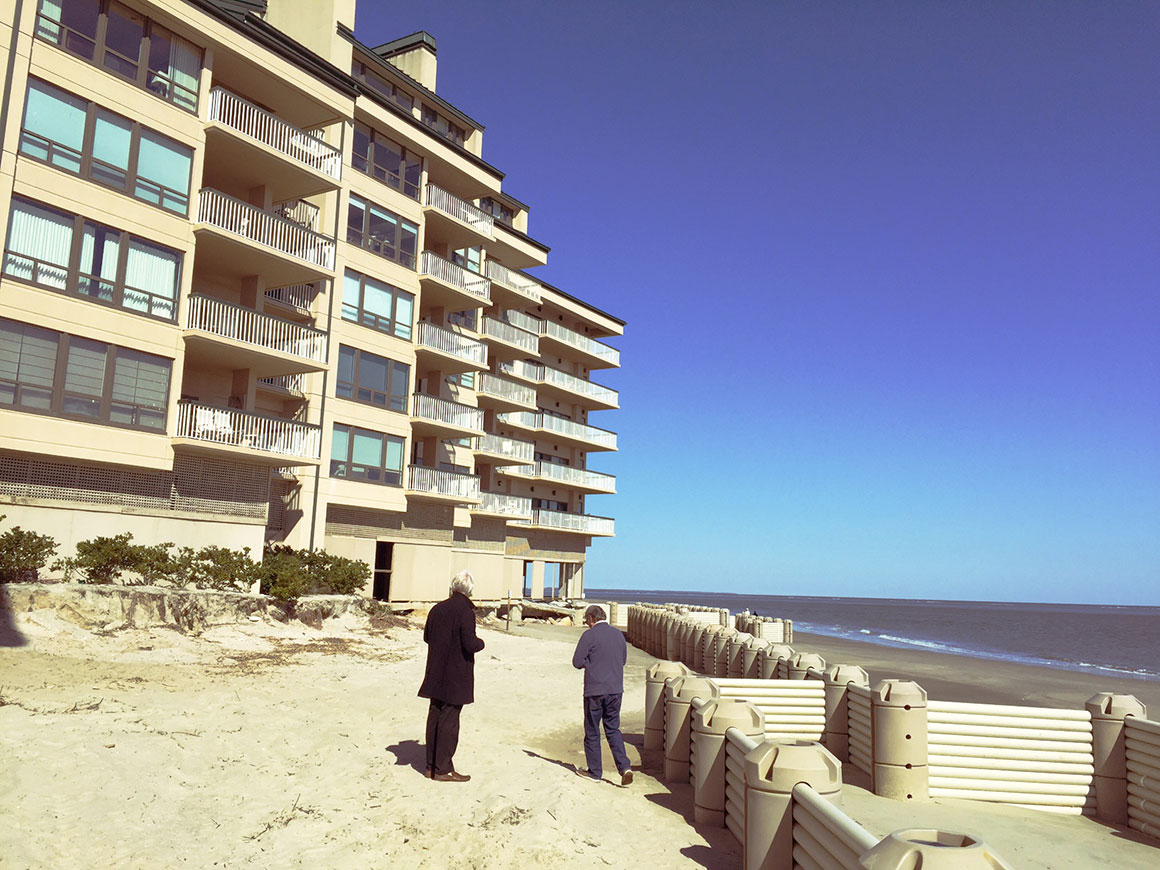 Carroll, who is on the Isle of Palms city council and cannier than any politician we've encountered on the trail thus far, steered away from using the words "climate change" and would not commit to what might be causing all the damage in his neighborhood. I ventured that it probably has something to do with the massive deposits we pump into the atmosphere. "No one is thinking in those kind of mega-terms," he said. "We are all thinking in local terms and how it's going to affect us financially. I hate to say that we have to push that up to the higher levels of government."
But we all know by now that those higher levels of government—with an obstinate, broken Congress and an embattled president on the way out—can't be counted on to do enough to help Isle of Palms or any one of the other thousand communities just like it. Instead, what we are likely to get is yet another quick, expensive fix for Band-Aid Nation. No program that sufficiently addresses the cost of climate change, but a host of new industries—from the sand trucks on the levies, to the backhoes installing the sand bags and Lincoln logs on Isle of Palms beach—that will solemnly address all the symptoms. Oh, and maybe a new insurance plan, too.
At the far end of the beach, we encountered an enormous, five-story condo unit called the Ocean Club literally crumbling into the ocean, a tangle of broken concrete slabs and rebar.
"Yeah, people still live there," Carroll said in response to our incredulous looks.
He assured us that the condo's corner pilings, buried 40-feet deep in the sand, still held, and that the sea had totaled only the ground-level parking garage, but had "not hit the water or sewer lines."
He walked us around the corner to point out a flag on a golf course right on the beach.
"That's the 18th green of the Ocean Course," he said, "It's very famous. It was a par five. Now it's a par three."
What Democrats Need is a Defensive President
Jack Hitt: With both parties chronically incapable of settling on a nominee, we prepare to leave South Carolina—opting for the luxury of a JetBlue coach seat instead of one more spin cycle in an Amtrak insomnia suite. After the debate brawl on Saturday, in which no one—including the audience—managed to corral the bellowing Trump, the Republican campaign has imploded into whispers of a brokered convention, a third party candidate or a split party. Meanwhile, the Democratic candidates are blowing up in Nevada—where Hillary was previously expected to win handily—and there is talk that younger black voters in South Carolina are giving Bernie a second look. And so the question that has been tormenting the Republican establishment for months—"My God, are we really nominating Donald Trump?"—is now also tormenting the Democratic establishment: "Bernie Sanders, really?"
Both parties now have to decide whether to support a candidate that a significant chunk of their own voters find depressing. Even Hillary's most ardent supporters look away and admit that, yes, we will be bringing the fuming, belching, soiled Clinton machine back to town. Democrats and Republicans have other choices, very attractive to most of their voters, but the dynamic forces of the primaries are heading where they are heading. Soon enough, summer will be upon us when they will shed their mortal coils as mere candidates and the mythic elevation will take place. "I accept your nomination to be President of the United States." And we will all have to start thinking very differently about these people.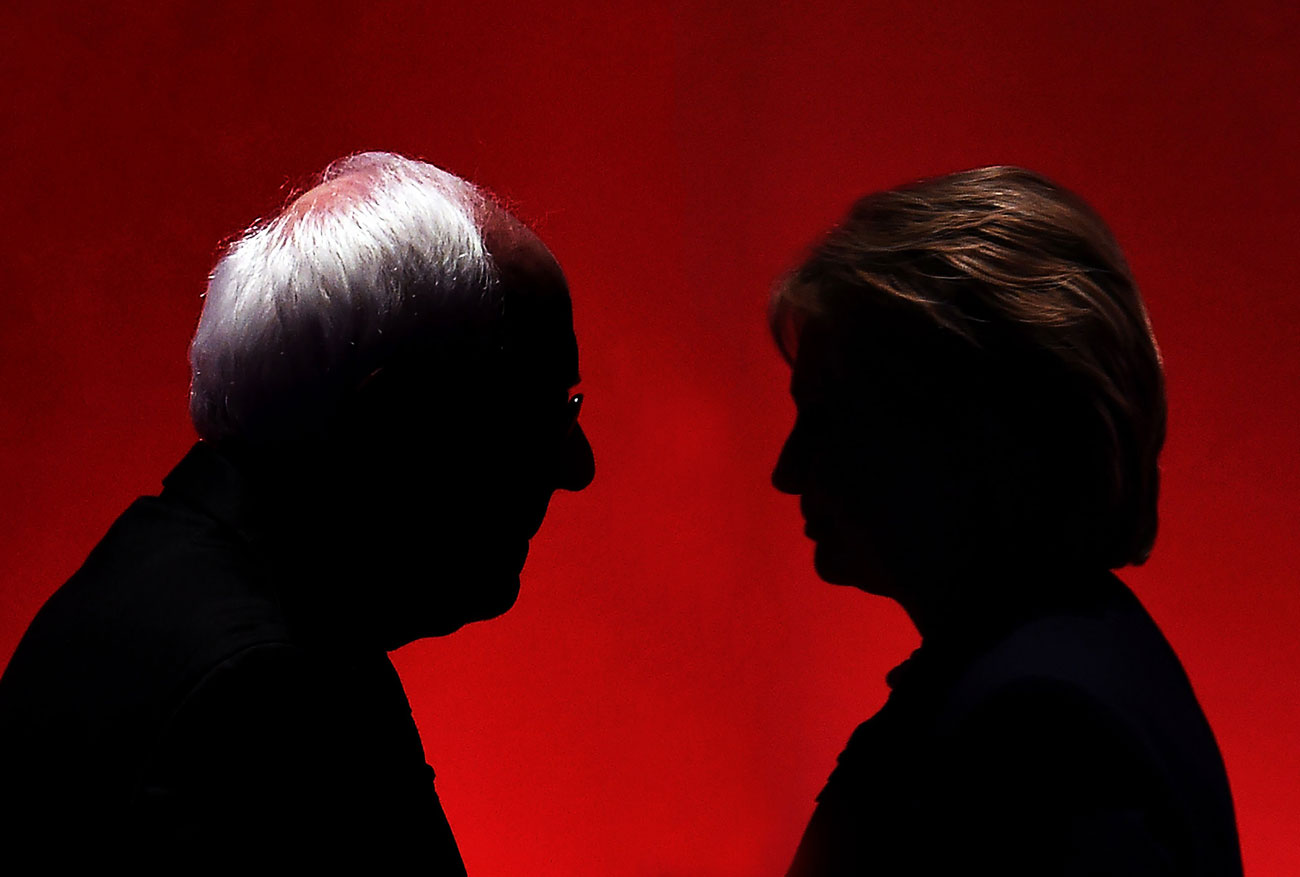 Kevin Baker: Electing a president isn't simply about selecting the best person available. It's about choosing the best person for an historical moment. As Bismarck said, a statesman "must wait until he hears the steps of God sounding through events, then leap up and grasp the hem of his garment."
Sometimes you need an "offense president"—someone who will take seize a historic opportunity to rally the country behind ideas your side has been championing for years. Think a Franklin Roosevelt or a Ronald Reagan, a Jefferson or a Lincoln. Other times, you need a defensive president—someone who will protect the best of what your party has done when the footsteps of God are sounding fainter and fainter.
A good defensive president uses a variety of tactics, depending on whether he is trying to revive his party after a temporary setback, help it through a long spell in the wilderness, or accommodate it to an immutable change in the world that threatens its existence. He or she can push forward the interests of his or her side—and, one hopes, what is best for the country—by using every resource at their disposal. Through executive actions, canny appointments, and by taking every possible opportunity to win over the public and challenge and divide the opposition.
Harry Truman, for instance, took office when the country was temporarily exhausted by his party's activism, not to mention a war and a depression before that. An accidental president, he was perceived as a much smaller figure than the giant who preceded him, Franklin Roosevelt. But Truman turned things around, playing up his "everyman" persona and taking on the new Republican Congress at every turn.
If you told as many different versions of your life story as Hillary has, you'd need a teleprompter, too.
His successor, Dwight Eisenhower, was seen by some conservative Republicans as just the leader to roll back the New Deal. But Ike correctly recognized that most of the Republican rank-and-file—as well as the country—generally approved of the reforms. In both domestic and foreign policy, with some notable exceptions, Ike struck a balance, while reining in the more radical elements of his party. In the process, he managed to recast the GOP as a moderate bastion of national defense and fiscal responsibility—and, amazing as it may sound to modern ears—a supporter of civil rights in the South.
Sixteen years later, Richard Nixon came out of a much more right-wing tradition, but he, too, saw that the spirit of the times was against conservatism. He would have to contend with large Democratic majorities in both houses of Congress, and Democrats dominating state and local politics in most of the country. So he made some calculated moves to coopt liberal issues, starting the Environmental Protection Agency (EPA) and proposing a guaranteed national income and universal health care.
Nixon's successes provided cover for a more thorough transformation. By pushing a combination of a relatively liberal economic agenda and conservative social policies, he was able to pry blue-collar workers away from the Democrats in the South—and much of the North.
How does all this translate to 2016? Well, we know that a Democratic president is not going to be able to pass any sort of wide-reaching agenda. Thanks to a long series of electoral disasters, Democrats have lost Congress and the overwhelming majority of governorships and state legislatures. And unlike Truman, Eisenhower, and Nixon, a Democratic president won't have anyone to work with across the aisle. There is no consensus to be built on at least a few key issues, no chance to win over voters on the other side in the short term.
This means that one of the main tasks facing a Democratic president will be simply holding the line while the demographics swing—if they swing—and the party reorganizes. And if the next Democratic president is going to do nothing but fight for his or her political life against a constant barrage of imprecations, lunatic conspiracy theories, and baseless threats of impeachment—something that any and every Democratic president will now face at the hands of a thoroughly radicalized Republican party and its sleazy corporate masters—I really can't think of a better defensive specialist than Hillary Clinton.
Perhaps the best showcase for how a Hillary presidency might proceed was seen last October when she walked into the House chamber for the Benghazi hearings. What was true genius was not merely the hipster cool she maintained for eleven hours in the dunking chair. It was the ten days that preceded her arrival. At the time, the Republicans were beginning the 11th hearing and/or report on Benghazi—all of which reached the conclusion that Clinton was not to blame. Then Republican Kevin McCarthy went on Fox and blurted, "Everybody thought Hillary Clinton was unbeatable, right? But we put together a Benghazi special committee, a select committee. What are her numbers today? Her numbers are dropping." Afterward, there was a constant barrage of items in the press about the partisan bias of this panel—a leaked transcript, a neutral staffer quitting because he'd been ordered to dig dirt on Hillary, then Elijah Cummings, the ranking Democrat, challenging one-sided procedure. By the time a rested and ready Hillary took her seat, the Republican chairman, Trey Gowdy, looked frail and afraid.
It's what Marines call "preparing the battlefield." Three days of airstrikes to wound and terrify the enemy, then you send in the devildogs for the kill. Those ten days were not random chance: It was tactical brilliance reminiscent of early Karl Rove. If only her campaign could ask the voter out loud, is Bernie capable of orchestrating anything as strategically successful as Hillary's Benghazi appearance?
KB: I suspect that Bernie himself originally intended his campaign as no more than a useful protest, an attempt to push Hillary to the left. There is nothing wrong with that. But now that he has become a serious contender, what does he have to offer us?
My guess is that George McGovern started his ill-fated 1972 campaign with much the same objective in mind. It's become a cliché to characterize McGovern as a starry-eyed peacenik who pushed the boundary of how far the left could go in America and led his party to disaster.
Actually, McGovern was a decorated bomber pilot from World War II, and a practical enough politician to win three terms in the senate from South Dakota. His liberalism was not far at all from the mainstream beliefs of his time. Had he decided to hold off running until, say, 1976, he might well have been elected—and might have made an excellent president.
Instead, running a ramshackle campaign without much of a plan as to how he might win or govern, he was crushed. His loss led the media to conclude that liberalism was probably finished in America. And yet in almost every way, he was a candidate with a much more attractive resume and far more effective political chops than Bernie Sanders.
Taking office at 75, if he can, Bernie would be the oldest president in history, in an age when the average American males lives to be a little less than 79. Would we even be voting for Bernie, really, or his vice-president?
The Clintons are, in many ways, disgusting. I vowed never again to vote for a-one of them after Bill nuked the safety net in 1996, in order to secure a few more votes in a re-election campaign he already had in the bag. If I thought that Hillary Clinton actually had a chance of passing any new program she devised, I probably would keep my vow.
But she doesn't. No Democrat does, because we liberals couldn't be bothered to come out and vote in an off-year and lost our majority. Until we do the long, hard work of clawing back representation in Congress and state governments all around the country, we need someone who can hold the barbarians from the gate. As FDR liked to say, "Some people can never understand that you have to wait, even for the best things, until the right time comes."
JH: If Bernie's victory in New Hampshire has actually eaten away at Hillary's base support, we'll soon know—she'll develop a slight hint of hoarse anger to her voice, and some fresh intemperance for mortgage bankers. By the end of this week, as Nevadans go to their caucus and South Carolinians to their voting booths, she will sound like the reincarnation of trust-busting Teddy Roosevelt atop his steed. The pundits will express disbelief—not because Hillary has so instantly reversed course, but because it will work. She will win the nomination and in all likelihood the presidency.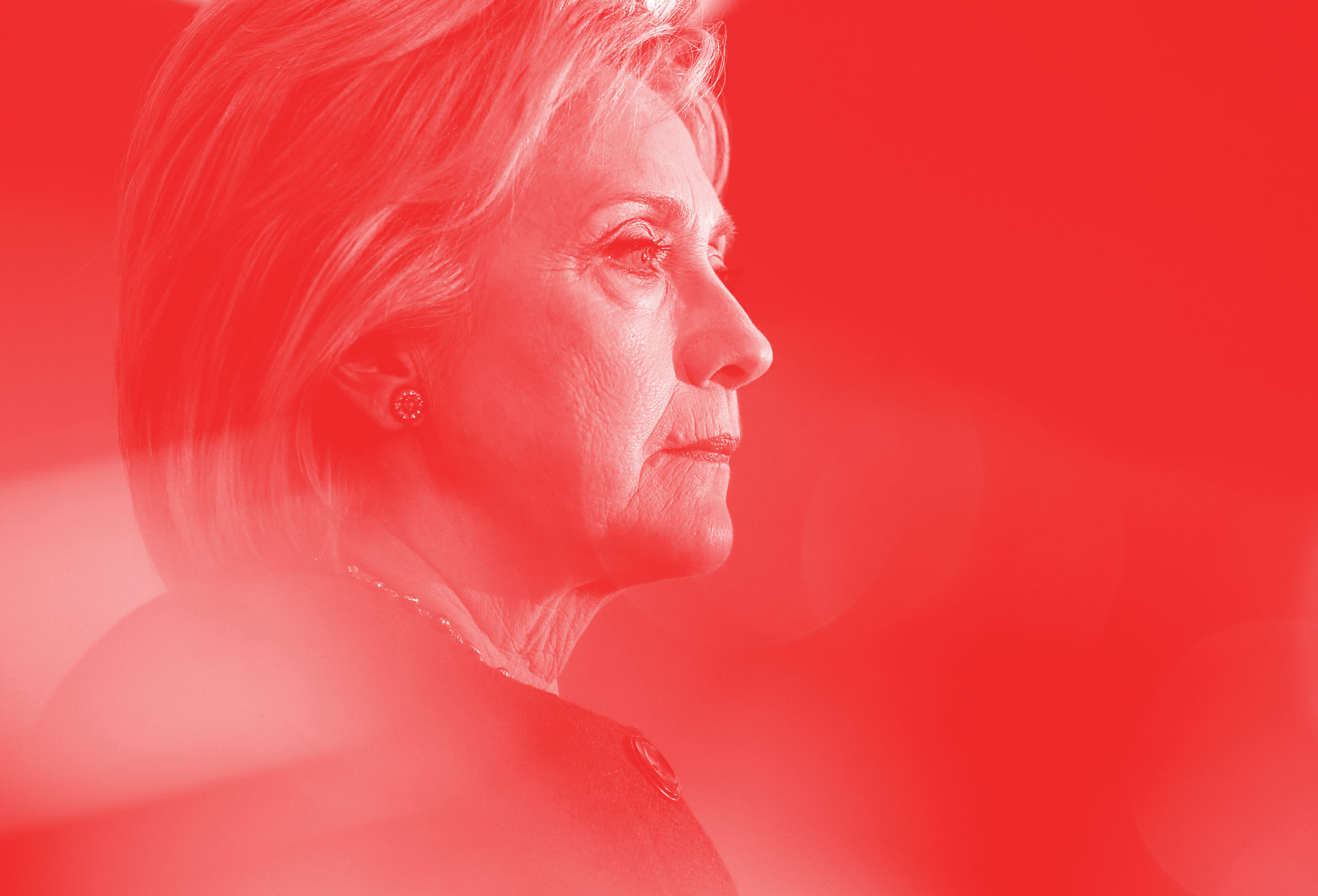 Kevin says that she'll be condemned to govern as a defensive president in the first-term Nixon mode. I don't know. George W. Bush limped into the White House in 2001, and, once in office, he faced an enraged Democratic Party. Yet he managed to outmaneuver the scattered Democrats on message and tactics nearly every time.
If Hillary were president right now, her first Supreme Court appointment might be Mariano-Florentino Cuellar, a Mexican-American triple threat (Harvard, Yale, Stanford) who is beloved by Latinos. She'd float his name long enough to lure Republicans into trashing him. Which is key, because Marco Rubio's seat in Florida is open this year, and any Republican forced to say that Cuellar should not be on the Court would probably lose. Then Hillary would hold a press conference, announce that the Republicans had politicized the process, withdraw Cuellar's name and announce instead Illinois native Merrick Garland. The Senate seat there is currently held by Republican Mark Kirk and considered extremely vulnerable. And so on.
Obama would never do this because it is just not in his blood to battle politically this way. Fervent Hillary supporters don't see Bernie ever thinking or acting in this manner either. The Hillary supporters know that there is only one person who has the scar tissue to fight like this. It's why they so passionately support her.
If she were running this Supreme Court appointment, by the end of the summer, the vulnerable senatorial candidates would be wailing at the Republican leadership to get this issue "off the table." So, a nominee would be confirmed and afterward, on the White House lawn, there would be Hillary, wearing that smile that drives her enemies insane, saying that the great strength of American democracy is our "ability to compromise."
Stories that stay with you.